Dredd May Be Coming To TV, Get The Details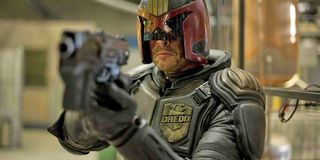 Over the last few days there have been some rumblings about the potential for Karl Urban to reprise his role as Judge Dredd in another project. The news originally stemmed from a tweet from Urban which expressed interest in Dredd 2 popping up on Netflix or Amazon. Now, it seems that those close to the project may be looking at a TV series revival. Plus, it could be coming together sooner than we might expect.
Over the weekend, Karl Urban attended the Calgary Expo and took some questions about potentially reprising his role as Judge Dredd. According to reports from attendees, Urban revealed that "conversations are happening" right now which may or may not revive the premise of the 2012 movie. If it did, it seems that Urban and others related to the project would be looking to do a potential TV outing, which squares with the tweet about Netflix or Amazon that Urban put out into the universe just about a week ago. Karl Urban has also been vocal about revisiting the role, so it seems pretty clear he would be on board should a TV project move forward.
First released in 2012, Dredd was a remake of a 1995 film starring Sylvester Stallone. The newer movie starred Karl Urban as the titular hero and he went through a slew of training to both affect a gravelly voice and present physique of a character who was hulking in the original film. Dredd is set in a future version of the United States in Mega-City One, where a crime lord named Ma-Ma is wreaking havoc. The movie follows Dredd tracking down a drug lord but also training and evaluating a new recruit, Cassandra Anderson, while accomplishing his other tasks as a judge in the tough town.
Following a disappointing box office run, any plans for Dredd 2 were put on hold. Later, screenwriter Alex Garland even bluntly stated that a Kickstarter or some other form of revival of the Dredd franchise would not be possible, as the movie—both movies really—had done so abysmally in theaters. However, he seems to be failing to account that there is a large cult following for Dredd and while a second, big budget movie might not be the best option, a revival on a major streaming service might do just the trick.
After all, outlets like Netflix, Hulu and Amazon Prime have been able to put together niche projects in recent years, relying on subscriptions rather than ratings to entice new audiences. Because of this, they've been able to give real budgets to projects like Wet Hot American Summer or The Man in the High Castle. Netflix has had particular luck with gritty crime-fighting series, including Daredevil and Jessica Jones, so perhaps Dredd would appeal to a similar audience.
Obviously talks are not the same thing as a series order, but we'll let you know if the project ends up moving forward with any network as soon as it happens. In the meantime, you can see what TV has coming up with our summer TV premiere schedule.
Amazing Race & Top Chef superfan with a pinch of Disney fairy dust thrown in. If you've created a rom-com I've probably watched it.
Your Daily Blend of Entertainment News
Thank you for signing up to CinemaBlend. You will receive a verification email shortly.
There was a problem. Please refresh the page and try again.