5 Properties Valiant Entertainment Should Bring To The Big Screen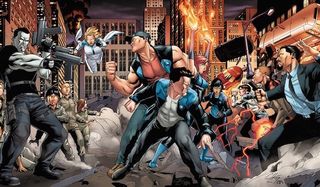 Marvel Studios changed the comic book movie game in 2008 when they created the Marvel Cinematic Universe. Now the idea of a shared world of superheroes has become the norm, and other studios have followed suit with their own properties - be it Warner Bros with the DC Cinematic Universe or 20th Century Fox looking for new terrain with their X-Men characters. Now a new player will be joining the game: Valiant Entertainment! Thanks to a new partnership that the company has formed, in the coming years fans of Valiant's books can expect to see several of their favorite characters appearing in live-action films.
According to The New York Times, the independent comic book company has joined forces with DMG Entertainment for a "nine-figure investment and partnership" that will include feature film financing, publishing, TV and marketing opportunities, as well as plans to develop the Valiant characters in the China and Asia-Pacific region. It may be awhile until these plans are fully developed, but Valiant has such a large library of heroes and villains that creating a cinematic universe won't be a problem for them. These characters may not be as well-known as Marvel or DC's, but with the right resources, they can be successful on the big screen. With that in mind, here are the five properties that Valiant should make as movies first.
5. Archer and Armstrong
When Obadiah Archer turned 18, he was sent to kill the ultimate evil in the universe: the 10,000 year old, heavy-drinking, adventuring immortal currently known as Armstrong. Unfortunately, Archer soon learned that The Sect, the people who raised him, are the true evildoers bent on destroying the world, specifically using an ancient device called the Boon. Allied together, Archer and Armstrong travel across the globe to stop The Sect's conspiracy and defeat other threats along the way. Many have called these two one of the best comic book duos of all time, and it's not often that we get to see two equally important comic book characters adventuring together on the big screen. Filled with both action and humor, these two are practically begging to get their own movie.
4. Shadowman
Jack Boniface inherited the identity of Shadowman years after his father, Josiah, disappeared in battle against Master Darque. Before Josiah died, he left a talisman to his pregnant wife Helena that would protect Jack from the dead. While trying to learn about his parents as an adult, Jack threw away his talisman away out of frustration, which led to a demon working for Master Darque sending two agents to capture him. To protect Jack, a voodoo spirit named Loa turned him into Shadowman. With his new powers, he fights Master Darque and his Brethren both on Earth and in the spirit-filled dimension known as the Deadside. Think of Shadowman as a mix between the pulp hero Phantom and Doctor Strange. If this cinematic universe is looking for a dark, mystical hero for its lineup, Shadowman is their guy, and considering his enemies primarily consist of demons and the undead, there's a rather obvious fantasy hook.
3. Harbinger
The Harbingers are a group of superpowered teenagers that are outcasts of society. The first one introduced in the series was Peter Stancheck, a teenager on the run who discovers he has a full range of psionic powers - including telekinesis and teleportation. Unlike other Harbingers, who typically only have one power, which is activated by stress, Peter is able to manifest his powers on his own. The teen was soon recruited into the Harbinger Foundation by Toyo Harada, another immensely powerful Harbinger. However, when Peter discovers that Toyo had his friend killed, he leaves the Foundation and puts together a group of Harbingers to stop Toyo from reshaping the world in his image. As popular as superhero movies are these days, rarely do we see ones starring teenagers who are fighting evil on their own. Since Marvel has shelved their Runaways movie, this could be Valiant's chance to deliver a youth-led superhero movie filled with cool powers and danger at every corner.
2. Bloodshot
If you thought Steve Rogers gaining enhanced strength, speed and agility was cool, just look at Valiant's resident super-soldier, Bloodshot. After being injected with nanites, the soldier known as Bloodshot gained regeneration and meta-morph powers. With these abilities, he eliminated terrorist threats around the world on the orders of Project Rising Spirit - an operation that has spent decades developing super-soldiers. Unfortunately for Bloodshot, his memory has been wiped and altered so many times that he no longer remembers who he used to be. Eventually escaping from his superiors, Bloodshot has since tried to learn about his true identity and take his revenge on those who did this to him. Mix Captain America and Wolverine together and you have Bloodshot. Plus, he's crossed over with the Harbingers enough times in the comics that it's possible moviegoers could see them share a movie at some point.
1. X-O Manowar
This story begins with Aric of Dacia, who was prince of the Visigoths fighting against the Romans. However, when the alien species called the Vine comes to Earth, Aric and several others are captured. Eventually leading a revolt against the alien oppressors, Aric finds what's called sentient X-O Manowar armor. He uses it to escape back to Earth, but 1,600 years has passed since he was taken away, and he finds himself stuck in the 21st century. To make matters worse, the Vine also sent undercover agents to Earth to kill Aric and secure the armor. Valiant would be wise to use X-O Manowar as their introductory character, in the same vein as Iron Man in the MCU and Superman in the DCCU. He has a rich enough backstory to support a standalone adventure, but is film can also introduce elements of Valiant's expanded universe. Above all else, the superhero elements would draw in the general movie-going audience and get them prepared for what Valiant's cinematic universe will be bringing in the following years.
Your Daily Blend of Entertainment News
Connoisseur of Marvel, DC, Star Wars, John Wick, MonsterVerse and Doctor Who lore. He's aware he looks like Harry Potter and Clark Kent.