How Long Hugh Jackman Plans To Play Wolverine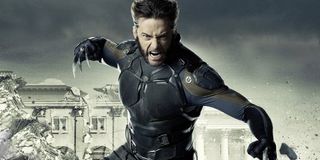 With a stunning and diverse list of accolades and having become one of the biggest movie stars out there, Hugh Jackman can afford to leave his signature character of Wolverine behind if he wished. Yet, despite the plethora of high-profile projects on his plate, he always seems to come back for more adamantium-coated carnage. In a recent interview, Jackman discusses Wolverine's place in his life and how the Oscars-dominating film, Birdman has come to shape his view of how long he wants to hold on to the character.
In an interview with Cigar Aficianado to promote his role in the upcoming Chappie, Jackman, not unlike his mutant alter ego, confesses his proclivity for the occasional stogie, but also discussed the long-term mentality regarding Wolverine and his plans to keep his iconic rendition alive. Going by Jackman's comments, the themes in Alejandro González Iñárritu's Birdman, portraying a washed-up former cinematic superhero chasing glory with pretentious vanity projects seemed to hit close to home. Jackman comments,
It's certainly no surprise that Jackman might already be looking back with an elegiac twinkle on the roads already traveled with his old pal, Logan. This year will mark the 15th anniversary of this first turn in Bryan Singer's first X-Men film back in 2000. Jackman was 31 when that film hit theaters…which means he's 46 now. While Wolverine may possess a mutant healing factor which helps him quickly recover from grievous wounds and significantly slows his aging, Hugh Jackman, the man, does not. He knows that the final leg he'll be running in this mutant race is quickly approaching.
Yet, despite occasional moments of doubt, the realities of life have not stopped Jackman from using his much-publicized grueling training regimen seemingly as a cornerstone in his life that helps him move forward to achieve things. We continue to see his version of Wolverine only get bigger and buffer, coming closer each time towards achieving the thick, seemingly exaggerated muscular look illustrated in the pages of Marvel Comics. For Jackman, the venerability of the Wolverine role seems to be rooted in its place in the cycles of his own life. Jackman states,
For now, that cycle will only continue, since Hugh Jackman is all but confirmed to be returning for what will be his EIGHTH onscreen appearance as Wolverine in next year's X-Men: Apocalypse. Additionally, it looks as if he'll be back for a third Wolverine solo movie sometime in 2017. Thus, it's probably important to know that his reign is not ending anytime in the next few years. Which is fine as far as most fans are concerned.
X-Men: Apocalypse will look to have Hugh Jackman's Wolverine whip a team of whippersnapper mutants into shape to take on the most powerful mutant ever when it hits theaters on May 27, 2016.
Your Daily Blend of Entertainment News
Thank you for signing up to CinemaBlend. You will receive a verification email shortly.
There was a problem. Please refresh the page and try again.