DC Just Added Two More Movies To Its Cinematic Universe, Here's What We Know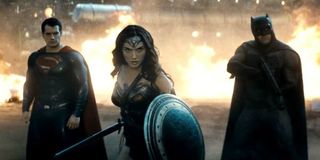 In October 2014, Warner Bros announced their slate of DC Comics movies coming out between 2016 and 2020. Since then, the schedule hasn't officially deviated from the two feature per year schedule in the near future, but there have been various reports and rumors of other movies being considered. A year and a half later, Warner Bros has now added two more DC movies to go along with shifting Wonder Woman's release.
According to The Hollywood Reporter, two currently-untitled DC movies have been scheduled for Oct. 5, 2018 and Nov. 1, 2019. Wonder Woman has subsequently been moved from its June 23, 2017 spot to an earlier release on June 2 that same year, pitting it against Bad Boys 3 and Captain Underpants. This means that fans will get three DC movies in 2018 and 2019, matching the same number of Marvel Cinematic Universe's releases both those years.
Here's the updated DCEU schedule to give you a sense of how the franchise's future looks following 2013's Man of Steel and Batman v Superman: Dawn of Justice last month:
Suicide Squad - August 5, 2016
Wonder Woman - June 2, 2017
Justice League: Part One - November 17, 2017
The Flash - March 16, 2018
Aquaman - July 27, 2018
Untitled DC Movie - October 5, 2018
Shazam - April 5, 2019
Justice League: Part Two - June 14, 2019
Untitled DC Movie - November 1, 2019
Cyborg - April 3, 2020
Green Lantern Corps - June 19, 2020
Over the last year, there have been several DC properties said to be in development, from no-brainers like a solo Batman movie and Man of Steel 2 to weird ones like Dark Universe and a Lobo movie. However, looking at this for a logical perspective, the two that make the most sense for those dates (and assuming none of the other previously announced movies have been switched) are the Batman movie and Suicide Squad 2.
A Batman solo movie was mentioned as a possibility in the original DC slate announcement, and over the last year, it's been reported that Ben Affleck has worked on a script and is being considered to direct as well. Following his positive reception in Batman v Superman: Dawn of Justice, DC was rumored last week to be fast-tracking a solo adventure for the Caped Crusader. While Batman has certainly got no shortage of attention on the big screen since 1989, but if Affleck's Batman is the talk of the town, Warner Bros would definitely want to capitalize that by putting the spotlight on him in a solo movie. It would be a prime candidate for the 2018 release date.
As for Suicide Squad 2, while its predecessor isn't coming out until later this year, there's apparently a lot of positive buzz for it already from Warner Bros. It was reported last month that the studio wants to bring back the entire crew for a sequel, including director David Ayer. If this gets green-lit, it was see the return of many DCEU villains part of the black-ops team, along some are members. Suicide Squad 2 would fit best with the 2019 release date.
Those are our guesses, but what do you think? Which movies that have been reported or rumored so far do you think are going in those dates, or is it something that hasn't been announced yet? Let us know in the poll and comments below!
This poll is no longer available.
Your Daily Blend of Entertainment News
Connoisseur of Marvel, DC, Star Wars, John Wick, MonsterVerse and Doctor Who lore. He's aware he looks like Harry Potter and Clark Kent.
Your Daily Blend of Entertainment News
Thank you for signing up to CinemaBlend. You will receive a verification email shortly.
There was a problem. Please refresh the page and try again.