Sam Raimi Admits He Messed Up Spider-Man, Explains What Went Wrong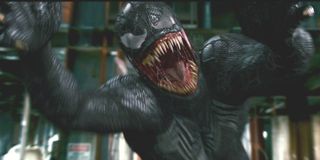 Poor, Spider-Man. He just can't seem to catch a break, at least when it comes to his movies. There were the good ole days when Tobey Maguire suited up as our favorite web-slinger in the first two installments of Sam Raimi's original trilogy. But then came the dreaded Spider-Man 3 and there arguably hasn't been a terrific Spider-Man movie since. Even Raimi knows he screwed up big time with that one.
The beloved director and producer recently went on the Nerdist podcast to promote his latest project, Murder of a Cat (he produced it), but the conversation transformed into a retrospective on his past work. When the topic turned to Spider-Man 3, Raimi admitted:
Spider-Man 3 was primarily about one of the more famous Spidey story arcs in the comics: his encounter with the Venom symbiote. Everything started out normal enough, but soon Sandman and Green Goblin were thrown in the mix, which collectively watered it down. And who could forget this atrocious scene?
This alone should have clued the folks behind the Spider-Man musical that Broadway dance numbers just don't mix with this guy. As Raimi continued:
If you ask us, this is the same issue that plagued this year's The Amazing Spider-Man 2. Much like Raimi's Spider-Man 3, there were way too many characters tossed in left and right: Electro, Green Goblin, Rhino and references to Vulture, Doc Ock and Black Cat. For cryin' out loud. More villains does not equal a hit. When fans first realized all these guys were joining in the fight, they immediately thought it'd be a repeat of Spider-Man 3.
We can only hope that one of these days someone will get a Spider-Man movie right. But with this massive franchise planned, including movies for the Sinister Six, Venom, The Amazing Spider-Man 3 and a female Spidey spin-off, an all-star director and writing team is needed to reinvigorate the films. Sony, after all, is required to develop a Spider-Man movie after a few years or the cinematic rights to this character will revert back to Marvel Studios, as per the terms of the original contract (if those terms are still in play... these things fluctuate). If those leaked emails are to be believed, though, perhaps they'll eventually come to an agreement and Spidey will be fighting alongside The Avengers in no time.
Your Daily Blend of Entertainment News