7 Batman v Superman Secrets We Just Learned In Lex Luthor's New Profile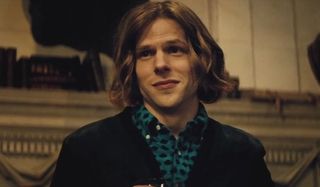 Batman v Superman: Dawn of Justice's main antagonist Lex Luthor is largely still a mystery. There are a few things that can be inferred right away going off the character's comic book history. He's extremely intelligent, he looks down on most people, he craves power, and, most importantly, he hates Superman. However, Jesse Eisenberg has said many times that this version of Luthor will be quite different from previous versions, and we still have half a year until moviegoers see the evil plan he's hatching. In the meantime, however, now we have a better sense of how Luthor is viewed by the public in the DC Extended Universe.
In a unique marketing move, Warner Bros. has released this faux-Fortune profile on Luthor over five months before the film's release. Alexander Luthor Jr. (yep, he's the second person to carry that name) is one of the world's most famous industrialists, and the article paints a clear picture of how he wants everyone to see him. Most of the new information revolves around Lex's background, but there are a few tidbits relating to the wider DCEU. Take a look at these fascinating revelations.
Kord Industries Exists In The DCEU
Next to LexCorp and Wayne Enterprises (more on them later), Kord Enterprises is mentioned as one of the "top three charitable corporations in America." Comic book fans know the company is owned by Ted Kord, the second Blue Beetle. Like Kord's mentions on Arrow, this could just be a simple name drop, but as it was recently reported that Blue Beetle and Booster Gold have their own movie in development, perhaps he will eventually be seen on the big screen.
A Collection Of Crystals
While interviewing Lex, the writer notes how they pass by the young industrialist's collection of meteorite crystals. To a magazine reader in the DCEU, this is just another cool factoid about Lex, but to us, we can't help thinking that a certain green rock dangerous to Superman is part of his collection. Lex was gazing at a large chunk of Kryptonite in the last Batman v Superman: Dawn of Justice trailer, so perhaps he discovered what the rock is capable of and took it out the display case for weaponization.
East German Background
In the DCEU, Alexander Luthor Sr. emigrated from East Germany to live out the America dream. Coming to the USA with nothing but grit and ferocity, he was able to build LexCorp, "an empire of oil and machinery." Lex also mentions that his father's Germany was a country that, under the guise of protection, "had absolute control over the citizens," prompting Lex to say he's hate to see that happen here. The junior Luthor might want to look up the phrase, "The pot calling the kettle black," because if he's anything like his counterparts in the comics and other media, he'll be trying to achieve the same kind of power.
His Father's Untimely Death
In this universe, Lex Luthor Sr. passed away unexpectedly in 2000, though no cause of death was given. Aside from his major role in Smallville (as Lionel Luthor, seen above), Lex's father has been a minor character, and his death in different stories is usually attributed to an accident or health issues rather than foul play. Despite being Batman v Superman: Dawn of Justice's main villain, there's no reason to believe Lex instigated his father's early death…yet. Its likelier it was just an unexpected illness, but we can't help but be curious.
The Company's Shift
After his father's passing, Lex changed the company's direction from oil and machinery to tech. This was the right movie for the young man, as he was later named Fortune's Businessperson of the Year and labeled one of the World's 50 Greatest Leaders. This explains why the LexCorp in the DCEU has a Silicon Valley-feel to it. Among the company's unique features an "inspiration station" for employees that houses a climbing wall, a coding room called "the crucible," and a cutting edge research and development lab. Oh, and there's a vegan food cart.
LexCorp In Competition With Wayne Enterprises
The article calls LexCorp the "second largest emerging technology corporation in the world," only lagging behind Wayne Enterprises. Lex attributes the new LexCorp's success to its willingness to take on military contracts, which its competitor's owner, Bruce Wayne, doesn't want to do. Luthor insists that with this being the most dangerous time in history, it's necessary that one has the resources to defend themselves. What few know is that Wayne uses his own unique weaponry to wage a one-man war on crime dressed as a bat in his spare time.
"A Technology That Will Change The World Forever"
Despite his company's charitable contributions, Lex believes LexCorp's main strength is its products. He then notes that the company will soon release a technology that will change the world, but the only detail he provided about this is that it will protect people from threats they don't know about. What's a threat that's always on Luthor's radar? Aliens, specifically a certain, flying, super strong alien who wears a cape and looks just like a human. Heck, if we expand the scope, he's weary of all metahumans. Just as a guess, perhaps this product will depower anyone with special abilities. That wouldn't be good for Superman or the rest of the Justice League.
Connoisseur of Marvel, DC, Star Wars, John Wick, MonsterVerse and Doctor Who lore. He's aware he looks like Harry Potter and Clark Kent.
Your Daily Blend of Entertainment News
Thank you for signing up to CinemaBlend. You will receive a verification email shortly.
There was a problem. Please refresh the page and try again.