5 Reasons Not To Give Up On Russell Crowe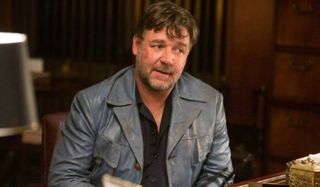 Russell Crowe recently returned to our screens with a barnstorming performance in Shane Black's majestic The Nice Guys. Uttering Shane Black's scintillating dialogue instantly reminds you of the Australian actor's charisma and presence, and also quashes any lingering thoughts that the 52-year-old might be past it.
Admittedly Russell Crowe's star status has diminished since his heyday in the early 00s, with his extra curricular activities involving violence, his terrible accent in Robin Hood, and dull directorial debut suggesting his career was in decline. But while it's safe to say that Russell Crowe will still forever be known for his Academy Award winning turn in Gladiator, there are still plenty of reasons to be excited by his future.
Want to peruse some of these reasons? Well have a click below for 5 reasons not to give up on Russell Crowe.
1. He's Seeking More Eclectic Roles These Days
We can all pretty much agree that the nadir of Russell Crowe's career came in 2010, when Robin Hood, his reunion with Gladiator director Ridley Scott, was met with a tepid response, especially his performance, and The Next Three Days underperformed at the box office, too. But rather than trying to steady the ship with similar roles to those that had turned him into an A-list star, he took a break.
It was two years until we'd see Russell Crowe on-screen again. And when he did appear, it was in a martial-arts film (The Man With The Iron Fists), which he then followed up with a musical (Les Miserables), as a villain in a thriller (Broken City), a superhero film (Man Of Steel), a supernatural fantasy (Winter's Tale), a Biblical epic (Noah), a post World War I period piece that also just happened to be his directorial debut (The Water Diviner), and now a mystery/detective/comedy (The Nice Guys). Each of these parts are drastically different from the latter, and it proves that Russell Crowe is taking more chances in unique films, which he is able to use his star-power to get made. The exciting thing is, it's impossible to know what he's going to do next!
2. He's Open to Sharing The Lead Role In His Films
What's even more intriguing is that out of the above roles Russell Crowe only really played the lead in Noah and The Water Diviner. After winning the Best Actor Academy Award for his performance in 2000's Gladiator, Russell Crowe was quickly labelled as the biggest actor in the world, and over the next decade, he was the bona-fide leading man in Proof Of Life, A Beautiful Mind, Master And Commander: The Far Side Of The World, Cinderella Man, A Good Year, 3:10 To Yuma, Robin Hood, and The Next Three Days.
Since 2012 though he has been willing to take a step back from the limelight, and allow other actors to lead the way. But, because of his acting prowess, even in minor roles, Russell Crowe is still able to take any film by the scruff of the neck and make it immeasurably better with his presence. In Man Of Steel's opening, he was, arguably, in the best moments of the DC Extended Universe so far, while his yin-and-yang act with Ryan Gosling in The Nice Guys has made them the best cinematic pairing of 2016, while, most excitingly, we'll next see him in 2017 as Dr Henry Jekyll opposite Tom Cruise in The Mummy. I'm genuinely worried that movie screens across the world won't be able to handle so much star-power, though.
3. He's More Relaxed, And More Self-Deprecating
In the past, Russell Crowe's work would somewhat be overshadowed by his off-screen antics. In fact, between 1999 and 2005 Crowe was pure tabloid fodder as he was involved in four incidents that exacerbated his reputation for bouts of violence and anger. But since then Russell Crowe's public image has softened, and he has appeared much more relaxed and self-deprecating. No more so than over the last few months. Alongside Ryan Gosling, he provided the funniest moments of the recent Awards seasons, something that has continued with his promotional exploits for The Nice Guys. Meanwhile, he's also killing it on Twitter, too, and Russell Crowe just seems much more comfortable, relaxed, and well aware that his acting legacy is firmly secured.
4. He's Already Gone Through His Award-Bait Phase
While his performance in the Ridley Scott epic was undeniably iconic, following his Oscar winning success in Gladiator, Russell Crowe went through a period of picking roles that were pure awards season fodder. Sure, immediately after Gladiator he found critical acclaim with A Beautiful Mind, which netted him BAFTA, Golden Globe, and Screen Actors Guild awards. But the likes of Cinderella Man, A Good Year, Master And Commander: The Far Side Of The World, and American Gangster, while not without their positives, all came with a mawkish seriousness that was a little hard to take.
Russell Crowe still shone in each role, but it's good to see that's he now moved on to more eclectic and complex parts that are taking him into new, unexpected genres and stretching him in ways that we'd never thought possible. I mean, who ever thought we'd get to see him sing on screen?
5. He's Still Russell Crowe
But once all is said and done, and we've examined and analyzed his career and future in every way possible, no matter how poorly his latest film is received or how little it earns, Russell Crowe is still always going to be desired by studios, producers, directors, writers, and his fellow actors. Why? Because he's Russell Crowe.
The man has one Best Actor Academy Award, which is sandwiched in between two nominations for The Insider and A Beautiful Mind. He has a brooding, nuanced intensity and stature that fits and suits cinema perfectly, and every time he's on screen you simply can't take your gaze away from him. Sure he probably won't ever match the work he's done before. But I'm not just excited to see him try, I'm excited to see him move away from his comfort zone and fail, too. Because at least Russell Crowe is taking these risks. Which of his peers can say the same?
Your Daily Blend of Entertainment News
Your Daily Blend of Entertainment News
Thank you for signing up to CinemaBlend. You will receive a verification email shortly.
There was a problem. Please refresh the page and try again.