5 Star Wars Stories That Need To Be Told In Some Form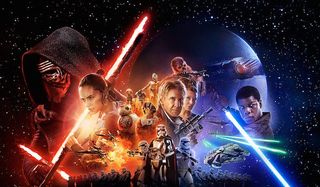 The Star Wars franchise has always provided more adventures than what's been shown on the big screen. From 1978 until 2014, fans could continue their exploration of a galaxy far, far away through the Star Wars Expanded Universe. Following Disney's acquisition of Lucasfilm, anything aside from the movies and Star Wars: The Clone Wars was tossed out as canon, but thanks to the new story group, they're continuing to tell other tales through books, comics, and video games, all of which are official. Most recently, it was announced that Poe Dameron will star in his own ongoing series from Marvel, showing what he was up to before Star Wars: The Force Awakens.
Now that the new trilogy has kicked off, this opens the door for other characters to be explored outside theaters. Obviously certain reveals are off-limits since they're being kept for the movies, from Rey's parentage to Luke Skywalker and Kylo Ren's falling out. Let's not even get started on what the deal is with Supreme Leader Snoke. Despite these restrictions, there are still a few candidates that could have their stories continued in others forms that will help ease the wait until Star Wars: Episode VIII. Take a look at who we picked to have their pre-The Force Awakens tales told.
Needless to say, there will be Star Wars: The Force Awakens spoilers ahead!
Hux's Rise To Power
Kylo Ren was Star Wars: The Force Awakens' main villain, but in terms of First Order hierarchy, Hux was more or less his equal. The young general may not have been deep in the action, but it was clear he has a commanding presence and will do whatever it takes to see that the First Order rules the galaxy. If Hux is the same age as his actor Domhnall Gleeson, then that means he was only a toddler when Emperor Palpatine, Darth Vader, and the second Death Star met their demise. So he's basically spent his entire life building a grudge against the Rebellion/Resistance, and at a still relatively young age, he's determined to see them wiped from existence. Although the novelization for The Force Awakens touched on his career, it would be great to see a more detailed look at how he rose to power, as well as his first interactions with Snoke. This would also be the first opportunity to see how he performs in action, though presumably he'll get to mix things up in Episode VIII or IX.
Maz Kanata's Past
Yoda may have lived a long time, but he's got nothing at Maz Kanata. Though she's at least 1,000 years old, she's still going strong, and Star Wars: The Force Awakens is only the latest page in her long life book. We still don't know for sure if Maz will return for Episode VIII, but on the off chance that doesn't happen, at least we can learn about her in the years before the First Order attacked her castle. There are plenty of points in Maz's life that could be visited, whether it's her connection to any of the Rebellion members during the Original Trilogy or seeing if she directly participated in any events from the Prequels. Heck, they could even go back hundreds of years further, which, in the new other media canon, is a period that has yet to be explored. Of course, the big question we still have is how she got ahold of Anakin Skywalker's lightsaber following The Empire Strikes Back. Assuming Luke doesn't provide those details in the upcoming movie, it would be nice to see where she secured the legacy weapon in a book or comic.
What Happened To Han Between Jedi And The Force Awakens
We all know Han Solo's story from the Original Trilogy quite well, and in two years we'll learn what he was up to as a younger man. Since he met his end at the hands of Kylo Ren (cue re-shedding of tears), that means the only time left for picking is his post-Return of the Jedi life. We learned in Star Wars: The Force Awakens that after his son Ben turned to the dark side and destroyed Luke's work rebuilding the Jedi Order, Han and Leia separated, and he returned to his old smuggling life with Chewbacca. While these adventures weren't anything galaxy-shattering, watching these two get into trouble again would be a fun ride, including seeing what they were doing right before they found the Millennium Falcon. If the writer of said project is feeling ambitious, they could even include flashbacks to Han and Leia raising Ben, though obviously the specifics of his evil turn would need to remain untold.
Phasma's Notorious Missions
Despite being hyped up for months, Captain Phasma didn't play a big role in Star Wars: The Force Awakens, only appearing in a handful of scenes and never getting to fire her blaster. That's going to be remedied in Star Wars: Episode VIII, but if Phasma's the badass that's been advertised, then she's already had years of missions cementing her as one of the First Order's top operatives. Of all the entries on this list, it might be most effective to tell a Phasma story in book, comic, or even video game form since we don't know what the big screen plans are for her. That said, if we saw a few of her previous missions, we would get a better sense of why she's so feared not only be her enemies, but those who serve under her. Also, like Boba Fett, it would also be wise to keep her helmet on at all times, at least until she takes if off in the movies. We wouldn't that moment to first happen away from moviegoers.
More Information On Lor San Tekka
Max von Sydow was one of the first new actors announced for Star Wars: The Force Awakens, but he was only seen as Lor San Tekka in the movie's opening scene. Nevertheless, in those minutes, it was clear he was someone of great importance. While Tekka's time was cut short by Kylo Ren's blade, the man's life can still be explored on the printed page. Both the Star Wars: The Force Awakens: The Visual Dictionary and the movie's novelization have provided details about his past, but we'd appreciate a book or comic that tells about his adventures, even if he isn't the central character. It could be anything from his time as a member of the Church of the Force during the Empire's reign to how he aided the New Republic following the destruction of the second Death Star. They could even show how well acquainted he was with the Solo family when Ben was still a boy. Most importantly, how did Tekka find the map fragment leading to Luke Skywalker's whereabouts on Ahch-To? There's still plenty to learn about the man.
Your Daily Blend of Entertainment News
Connoisseur of Marvel, DC, Star Wars, John Wick, MonsterVerse and Doctor Who lore. He's aware he looks like Harry Potter and Clark Kent.