The 5 Worst Moments From The 2013 Academy Awards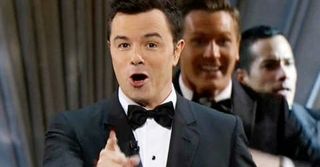 Shirley Bassey. The cast of Les Miserables powerfully harmonizing on One Day More. Barbra Streisand. As it turns out, the highlights of Sunday's Academy Awards telecast were largely musical … and barely overcame the mechanical teddy bear Ted asking where the sex party was going to be after the Oscars. Ugh.
Seth MacFarlane was the wrong choice to host the Academy Awards, barraging those in attendance (and the billions watching at home) with tasteless punchlines that made us want to take a shower after the ceremony. Pomp and circumstance were replaced with pedophilia and crap jokes, torpedoing a telecast that was off the mark from minute one and never found its feet.
Out of the roughly 35 disastrous moments from last night's abysmal Oscars telecast, here are the five most jaw-dropping, head-scratchingly awful moments we should have been spared.
#1: "We saw your boobs."
The lowest point for a telecast that, at its finest moment, was mediocre. I totally get MacFarlane pitching this idea. It's crass, sexist, disgusting … if it popped up on Family Guy in animated form, that show's audience might laugh. But how the hell did the grotesque and woefully unfunny musical number actually get greenlit for air by co-producers Neil Meron and Craig Zadan? How could they not instantly realize the concept is wrong for the Oscars – unless you're OK with the Oscars devolving to the level of the AVN Awards. Will the voice of Mr. Skin host the Academy Awards next year? Naomi Watts and Jennifer Lawrence get partial credit for agreeing to play along with the joke by providing pre-recorded reaction shots to MacFarlane's horrendous number – which, according to a lengthy William Shatner skit that refused to end, led to the host scoring bad reviews. If only the rest of MacFarlane's shtick were pre-recorded … and then left on the cutting-room floor.
#2: "Here's to the losers."
Another disastrous decision by Meron and Zadan, who should never work in this town again. Ben Affleck has just shocked the room, winning the Best Picture Oscar for Argo without claiming a Bets Director prize … a feat that has only been accomplished three times in film history. He gives a heartwrenching speech about picking oneself up after repeated public beatings. His voice cracks\ as he thanks his wife and children. Hard to top, right? But MacFarlane continues his stream of misfires by attempting to close the show with an off-color song-and-0dance routine with red-carpet punching bag Kristin Chenoweth where they celebrate "all the losing works of art, from Lincoln to Amour." I'm sorry, what? They are losers? What the hell does that make you two bullies? Champions?! Here's to the losers, indeed. We watched them sing a pathetic number while the bulk of the theater ran for the exits, and America changed the channel.
#3: The Jaws music playing people off the stage
The first time it happened, I thought it was pretty clever. In an evening dedicated to the music of the movies, John Williams' signature Jaws music sneaks up on long-winded Oscar winners and plays them off. But the more they used it, the ruder it became. And when a visual artist responsible for Ang Lee's breathtaking Life of Pi received both the Jaws music AND a turned off microphone as he tried to draw attention to his fellow colleagues at the financially struggling Rhythm and Hues, the Oscar telecast officially jumped the shark.
#4: Seth MacFarlane's John Wilkes Booth joke
Not because it was tasteless, but because it was so obvious. MacFarlane, who unleashed a violent stream of duds all night long, said that the only other person besides Daniel Day-Lewis to get into Abraham Lincoln's head was Booth. Funny? You might think. But it's such an easy joke, I'm ashamed at MacFarlane for evening attempting it. This bad joke barely edged out the vile barbs he aimed at Rihanna and Chris Brown or George Clooney eventually dating 9-year-old Quevenzhane Wallis. Again, these offensive jokes probably should have been funny, but the delivery and the dated feel of the targets just added to the pile of Oscar gags that whiffed.
Separate church and state. Keep Clint Eastwood and his empty chairs out of political conventions. And leave the White House out of the Oscars. I didn't think it was the right decision to have Michelle Obama presenting "alongside" Jack Nicholson at a moment of the show that's traditionally reserved for Hollywood royalty. I thought the lag between Nicholson's stage presence and Mrs. Obama's on-screen bit disrupted any chemistry or flow. It was another medium-concept idea that might have sounded OK on paper but failed in the execution … which is how I'd sum up the 85th annual Academy Awards, on whole. Perhaps in some writers' room deep in the bowels of Hollywood, everything that we witnessed Sunday night sounded like a great idea. But a lot was lost in the translation.
Your Daily Blend of Entertainment News
Sean O'Connell is a journalist and CinemaBlend's Managing Editor. He's frequently found on Twitter at @Sean_OConnell. ReelBlend cohost. A movie junkie who's Infatuated with comic-book films. Helped get the Snyder Cut released, then wrote a book about it.
Your Daily Blend of Entertainment News
Thank you for signing up to CinemaBlend. You will receive a verification email shortly.
There was a problem. Please refresh the page and try again.