6 Major DC Comics Villains We'd Love To See In Justice League: Part One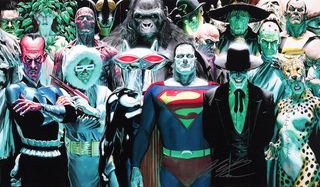 Although Batman v Superman: Dawn of Justice will see most (if not all) of the Justice Leaguers appear, the team won't officially form until 2017's Justice League: Part One. Recently there's been renewed talk about Darkseid being the the threat that brings them together. The latest Dawn of Justice trailer showed what looked like Parademons flying Batman's "Knightmare," and then a new picture was released of Batman looking over a devastated city with the Omega Symbol burned in the ground. At this point, it's clear that the lord of Apokolips we'll play a big role in the DC Extended Universe.
However, there's still no official word on when he'll appear. Perhaps DC is taking a similar approach to what Marvel is doing with Thanos and holding Darkseid for a little later, like 2019's Justice League: Part Two. If that's the case, then who will the League battle in Justice League: Part One? Well, we've provided a few enemies who have not only battled the League in the comics, but also meet the criteria for compelling these heroes to join forces for the first time. Only villains (or in one case, a group of villains) who can truly go toe-to-toe with these heroes are worthy of such a position, and these folks can definitely pull it off.
Amazo
Created by Professor Anthny Ivo, Amazo is an android able to replicate the abilities of any superpowered individual. So, with the exception of Batman, all of the Justice Leaguers are susceptible to his ability. Yes, he's even been known to duplicate Green Lantern's ring energy. Since there are already several superhumans (and aliens) roaming Earth in the DCEU, it's not impossible that Ivo somehow collected the genetic sample from one of them so Amazo could start with a base power. From there, he then picks a fight with other individuals, growing more powerful with each battle. If the filmmakers really want to raise the stakes, they coulc make it so one version of Amazo is defeated, but then when the Justice League goes to capture Ivo, he unleashes an even more powerful version, Amazo 2.0. Or, take some inspiration from the recent Amazo Virus storyline and have Ivo unleash a virus that transforms a select portion of the population into his creations.
Starro
The first enemy (publication-wise, not chronologically) the Justice League battled was Starro the Conqueror, an alien life form that looked just like, as you would automatically guess, a giant starfish. The main Starro is already powerful by itself, but the real danger lies in it being able to create mini-clones. These parasitic creatures then attach themselves to a victim's face so that Starro can control them. The more clones Starro creates, the bigger an army it can lead. Yes, a giant starfish leading an army mind-controlled humans with starfish on their faces might seem a bit kooky, but with the right adjustments, Starro's invasion of Earth would work excellently as the reason for the DCEU Justice League to officially form. Not only would their combined might be the only thing capable of felling the beast, but they would need to find a way to free the humans from its control. The Justice League kicked off their adventures in the comics battling Starro, so maybe the movie could follow suit.
Prometheus
The boy who would become Prometheus was the son of criminal parents who were killed by law enforcement, Bonnie and Clyde-style. Swearing revenge and dedicating his life to destroy the "forces of justice," he used the money his parents accumulated from their crimes to train around the world, attend several universities, and build his own tech, including an advanced battle suit. Prometheus then masqueraded as someone trying to join the team as a pretense to sabotage their skills, powers, and technology. He was obviously defeated, but continued to give them trouble in later years. Even though the Justice League is only just establishing themselves in the DCEU, it would be interesting if Prometheus was added as an early recruit. After he shows his true colors, the other members must work together to prevent their "teammate" from causing more destruction.
The Crime Syndicate
Take the Justice League, make them evil, and you have the Crime Syndicate in a nutshell. These super villains hail from Earth 3, a world which is a mirror of our own. This includes their morals being the complete opposite of ours. So being bad is considered normal, and good is out of the ordinary. Thus, the Crime Syndicate spend their time seizing power and causing terror. For the DCEU, the Syndicate would be comprised of Ultraman, Superwoman, Owlman, Johnny Quick, Sea King, and Grid. (If Green Lantern shows up, then add Power Ring, too.) Granted, having the Justice League going up against their evil counterparts right upon forming might be a weird move, but it would nonetheless make a great challenge. As for why the Syndicate would come to the main DCEU Earth, they could adapt part of the Forever Evil storyline, where their world was destroyed, so they came to "ours" to take it over. However, instead of having the Anti-Monitor be responsible like in the comics, make it Darkseid, which would set up the Justice League's battle with him in 2019.
Despero
Among the many alien tyrants across the galaxy, Deserpo is one of the most dangerous. His most dangerous feature is his third eye, which is capable of casting illusions, hypnotizing victims, telekinesis, and telepathy. Despero is also powered by the "Flame of Py'tar," which boosts his strength and endurance, as well as lets him alter his mass. So no only is he a formidable physical threat, but his mental abilities take him even further. When the Justice League first faced him, he only had his psionic powers, but after going through the Flame, he became so powerful that he even gave Superman a run for his money strength-wise. Like Darkseid and almost every other alien villain coming to Earth, Despero would battle the Justice League while trying to conquer our world, and trust me, it will take all six (maybe seven) heroes to bring him down, even without an army behind him.
Brainiac
Brainiac is typically considered a Superman villain, but as the decades have passed, he's gotten so powerful that it's taken the full strength of the Justice League to defeat him on several occasions. A 12th level intellect from the planet Colu, Brainiac's never-ending mission is to collect civilizations from each planet he visits and miniaturize them so he can add them to his collection. He then destroys the planet itself and moves on to the next target. It's bad enough that Brainiac is extremely intelligent and augmented his body with different kinds of tech, but it's nearly impossible to kill him because he can quickly download his mind into another body or computer network. So even if Brainiac is defeated in one movie, there's always the chance he could reappear in the future. It was rumored in 2014 that Brainiac might be Justice League: Part One's villain, but there's still no official word on whether that's the case. Frankly, even if Brainiac doesn't show up in the Justice League movies, he's too good of a villain not to use on the big screen. We're looking at you, Man of Steel 2.
Connoisseur of Marvel, DC, Star Wars, John Wick, MonsterVerse and Doctor Who lore. He's aware he looks like Harry Potter and Clark Kent.
Your Daily Blend of Entertainment News
Thank you for signing up to CinemaBlend. You will receive a verification email shortly.
There was a problem. Please refresh the page and try again.