6 Villains Who Better Be In The Suicide Squad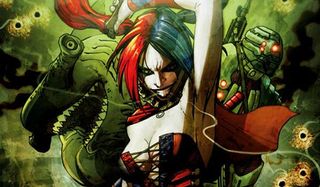 Sorry, Avengers. And no offense, Justice League. But nowadays, villains move the needle on major superhero tentpole pictures. Sony is hard at work on a Sinister Six project. Dwayne "The Rock" Johnson would rather play Black Adam than Shazam. And Warner Bros. just dropped the hammer on a gestating Suicide Squad feature, with David Ayer (Sabotage, Fury) possibly directing.
Sometimes, being bad is very good.
The Suicide Squad has been in business since 1959, operating as a band of antiheroes recruited by the United States government to complete covert, Black Ops missions in return for commuted prison sentences. They're like the "Dirty Dozen," but with colorful costumes. Led by Dr. Amanda Waller, the Suicide Squad has operated out of the Belle Reve Penitentiary in Louisiana, and has included multiple members in different iterations over the years. This means Warner Bros. has a deep bench of nasty talents from which to choose when assembling the first on-screen Suicide Squad team.
We're salivating over the prospects. But if we had our choice, the Suicide Squad movie absolutely would include:
Deadshot
A vintage Batman foe, Deadshot's a lethal assassin with a suicide wish – which makes for a deadly, fatal combination. Deadshot's an expert marksman who primarily uses wrist-mounted guns to eliminate his targets. For a while, Deadshot tried to replace Batman as Gotham's protector. But his lack of passion for living made him an easy fit for the Suicide Squad because, simply put, Deadshot doesn't care whether he lives or dies. So long as he goes out in spectacular fashion.
Captain Boomerang
One of The Flash's chief adversaries, Captain Boomerang has been an identity assumed by both George "Digger" Harkness and, later, his son Owen Mercer. Each served the Suicide Squad in their respective times, and should be part of the on-screen team. Captain Boomerang never fit in with the serious personalities of the Squad. He wasn't dependable, he could be racist, and he generally fit the description of "class clown." But his boomerang skills could make for a thrilling CGI trick in a Suicide Squad movie – and the role could lend some comedy to the feature if they hire the right actor.
Harley Quinn
Selfishly, we just want to see the psychotic and gleefully unpredictable Harley Quinn make her way to the big screen, and if it has to be as a member of the Suicide Squad, so be it. Largely known as The Joker's main squeeze, the deranged sidekick has had several solo adventures in Batman's universe, and was forced to join the Suicide Squad during DC Comics' The New 52 relaunch. She'd be a giddy, crazed part for a young actress who wanted to throw all inhibitions into the wind and spill a little blood. All for a good laugh, right?
Rick Flag
The Suicide Squad needs Rick Flag (or his son, Rick Flag Jr.), much in the same way that The Avengers would need Captain America. A "founding father" for the original Suicide Squad back during World War II, Rick Flag could play a part similar to Samuel L. Jackson's Nicky Fury. He's good with a gun. He's a commanding presence. And he could be the crazy son of a bitch who convinces the demented criminals of the DC universe to sign up for the Suicide Squad in the first place. Not the sexiest pick, but somewhat essential to the formation of the team.
Bronze Tiger
Time to bring some martial arts to this deadly group! Alongside Deadshot and Rick Flag, Bronze Tiger is the assassin most closely associated with the Suicide Squad, and would make an outstanding contribution to the first on-screen gathering of the deadly, dysfunctional team. If anything, Bronze Tiger is the closest thing to a "good guy" the Squad has, and he often works with team leader Amanda Waller to keep the vicious killers in the group in line. This could be a deeply conflicted part, with plenty of subtleties for a character actor to explore… to long as they were skilled in martial arts, as well.
Ravan
While I almost went with Oracle (because I think they'll need a person to run point on missions… though that role will likely go to whomever plays Amanda Waller), Ravan was an integral member of the Suicide Squad – introduced in 1987 – and could look amazing on screen. Ravan's allegiances shifted over the years, sometimes fighting against the Suicide Squad but usually fighting alongside of them. The dynamic and team chemistry between the members of the Squad will be important. They likely won't trust each other, and should be on the verge of disbanding. Ravan could have a crucial impact in the makeup of this team.
In Addition: Because the Suicide Squad hosted so many villains over the years, the new Suicide Squad movie could give us new iterations of Poison Ivy; Nightshade; Enchantress; Sgt. Frank Rock; Multi-Man; and Solomon Grundy.
Sean O'Connell is a journalist and CinemaBlend's Managing Editor. He's frequently found on Twitter at @Sean_OConnell. ReelBlend cohost. A movie junkie who's Infatuated with comic-book films. Helped get the Snyder Cut released, then wrote a book about it.
Your Daily Blend of Entertainment News
Thank you for signing up to CinemaBlend. You will receive a verification email shortly.
There was a problem. Please refresh the page and try again.