7 New Superheroes We Might See In Avengers 3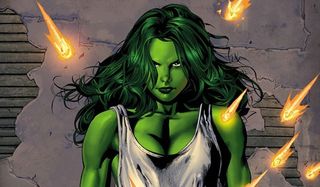 If the rumors flying around about the future of Marvel Studios are true, there's a possibility that we may not be seeing the likes of Captain America or Thor in The Avengers 3. Whether it's a contractual tactic, or there's some sort of thematic hook that this report is hanging on, this means two things: people are going to be upset, and there's going to be some room for some fresh faces.
There's enough room, in fact, that we've actually speculated about this subject before with Adam Holmes' list of five superheroes who would be perfect to fill the voids let by two of our current favorites. But now it's my turn at the speculation table to present seven more heroes I think could take up arms with the rest of The Avengers' team, and kick some serious ass in the future of the Marvel Cinematic Universe.
She-Hulk
Forget David S. Goyer's dismissive remarks about Jessica Walters, a.k.a. She-Hulk! The Avengers need diversity, and with Aubrey Plaza recently suggesting that she would love to take on the role, it's hard not to imagine all of the possibilities for opportunity for brains and brawn to meet a healthy dose of Plaza-dished snark.
Drax The Destroyer
We've already been hearing rumors that Dave Bautista has been working out some kind of big part in The Avengers 3 so why not go the full distance and make him a member of the titular team? With the Guardians Of The Galaxy and The Avengers on course to possibly merge into an uber fighting team with Avengers 3, Drax would serve as a great precursor to the big moment. Not to mention, the "fish out of water" comedy that suits Thor so well would also suit Drax's character, as we know that nothing goes over his head.
Doctor Strange
Doctor Strange has already been confirmed to be in development as part of Marvel Studios' Phase Three plans, and would obviously be a very valuable asset to The Avengers team. Phase 3 needs to be represented in The Avengers 3 somehow, and between Doctor Strange and Ant-Man, the egotistical surgeon seems like a better candidate than a miniaturized thief. Not to mention, Stephen Strange's presence in an Avengers film would provide a tangible link into the larger Marvel Cosmic universe, which would help in tying the entire fictional world together.
Ms. Marvel
On a practical level, Ms. Marvel is the type of Captain America-esque character that could keep The Avengers in line, especially with her similar military background as an Air Force pilot. Katee Sackhoff and Ms. Marvel would be an incredible casting coup that could spark public interest in a heartbeat. It helps deal with the absence by bringing in someone similar enough to be familiar, but different enough to be exciting.
Squirrel Girl
Another great starter for The Avengers 3 would be the somewhat recently cleared for usage Squirrel Girl, who's powers could come in handy outside of major metropolitan areas. Also, just a bit of dream casting, but Alyson Hannigan would be a perfect Squirrel Girl, and she'd be following in the Marvel Studios footsteps of her husband Alexis Denisof (who played Thanos' lackey, The Other in The Avengers and Guardians of the Galaxy).
Spider Man
Peter Parker has been discussed as a possible crossover candidate, thanks to recently rumored discussions between Marvel Studios and the folks over at Sony. This bush has been beaten around long enough, it's time for Andrew Garfield to play in the Avengers' sandbox. C'mon Marvel, let's give the man a fair shake and bring him into the fold!
Bucky Barnes
Sebastian Stan has a nine picture contract with Marvel Studios, and if Chris Evans' Captain America might be getting put on ice for a while, why not have Bucky Barnes come in and take his place in the Avengers lineup? Sebastian Stan as done admirable work so far, as totally owned his badass and mostly silent part in Captain America: The Winter Soldier. So imagine how great his performances could be with actual lines!
CinemaBlend's James Bond (expert). Also versed in Large Scale Aggressors, time travel, and Guillermo del Toro. He fights for The User.
Your Daily Blend of Entertainment News
Thank you for signing up to CinemaBlend. You will receive a verification email shortly.
There was a problem. Please refresh the page and try again.