8 Spider-Man Characters Marvel's Reboot Needs To Stay Away From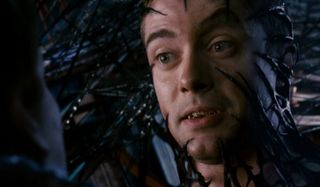 Spider-Man is back! But who is he bringing with him? That's one of several questions we are waiting to have answered now that we know the wallcrawler is going to be part of the Marvel Cinematic Universe AND a planned solo movie that will land in theaters in July 2017.
While we have heard that Sony and Marvel want to go with a younger, high-school-aged Spider-Man, we're not even sure if the secret identity of the rebooted hero will be Peter Parker (as is tradition) or someone else. So while we are fantasy casting the reworked Spider-Man universe, here are eight characters who we think need to be left in the Spidey vault for the time being… and why we think they belong on the shelf.
Uncle Ben
This one's a deal breaker. No origin story, and please (PLEASE) don't make audiences sit through the death of Uncle Ben on screen again. Even casual fans know that the murder of Peter's uncle is the driving motivation behind his early career as a crime fighter. But Cliff Robertson (pictured) and Martin Sheen have done all that they could the bring Ben's gravitas to the Spider-Man mythos. If Marvel feels the need to even mention Spidey's origins, limit it to a montage, patch the holes with voiceover, and dive right in to a new Spider-Man adventure with us already knowing who this hero is and where he comes from. Let Uncle Ben rest in peace.
Gwen Stacy
On the topic of resting in peace, we just suffered the tragic death of Gwen Stacy (Emma Stone) on screen, and even detractors have to admit that Marc Webb handled the death of Peter's true love well in The Amazing Spider-Man 2. The Marvel/Sony deal means, essentially, that Webb's movies didn't happen. But that doesn't mean audiences can wipe their memories of Stone's emotional portrayal of the doomed blonde beauty. Ironically, I don't have the "hands off" mentality when it comes to Peter's other girlfriend, Mary Jane Watson. Given how Kirsten Dunst butchered the character with her uneven portrayal in the Sam Raimi films, I think the new Spidey films can lean on M.J., but leave Gwen alone.
Harry Osborn
Both Spider-Man franchises thought it important to emphasize the relationship between Peter Parker and his best friend, Harry Osborn. On paper, it makes sense. There's a Shakespearean tragedy to the notion that the father of your best friend – in this case, Norman Osborn – can turn out to be your sworn enemy. But the Raimi films dragged out Harry's vengeance desires over two sequels, and Webb crammed his soap opera into one crowded film. Both options mishandled Harry Osborn's arc, and I'm not ready to see yet another Spider-Man movie try to make right by Harry. It's incredibly easy to make a Spider-Man movie that doesn't involve Harry Osborn. On the flip side, I would like to see the Green Goblin in this new universe… and soon.
Eddie Brock / Venom
Whenever fans start a Wish List of potential on-screen villains, they put Venom near the top. It's time to take him off. Venom is a spectacular character in the comics. I'm not convinced that he works on the screen. Topher Grace's attempt at bringing angry Eddie Brock to life in Spider-Man 3 did nothing to change my mind. The biggest problem with properly portraying Brock/Venom is that you have to introduce the alien symbiote – the black suit that Peter rejects, causing all sorts of problems. That story takes time to develop. That's not to say that the new Marvel road map for the Spider-Man universe can't eventually get to Venom. But it better not happen in 2017.
Carnage
By extension, Carnage can't happen until Venom happens. And Venom can't happen until the black suit happens. Carnage is another Wish List villain who fans think would make for an excellent foil, primarily because he's a psychotic lunatic who tests Spider-Man on a physical and psychological level. But given the fact that Spidey has an amazing Rogue's Gallery of colorful villains – many of who we haven't yet seen on screen – I'd be disappointed if we didn't explore options like Kraven, Mysterio, the Chameleon, the Kingpin, the Vulture or even a new Doctor Octopus before we started going down the path that leads to Venom and Carnage.
The Rhino
Some of Spider-Man's villains just aren't built for the big screen. Sandman actually worked well in Spider-Man 3, and that movie might have been a whole lot better if Sam Raimi was able to pair him with the Vulture like he initially planned. On the flip side, Marc Webb's effort to modernize The Rhino by placing a scene-chewing Paul Giamatti in a mechanical suit proved how one-note the classic villain really is. It was a fitting coda for the exaggerated Amazing Spider-Man 2, but the scenes that included Giamatti's villains demonstrated that Rhino has no real business in a Spidey movie, and I'm not even sure the brain trust at Marvel could figure out a way to make him work.
Dr. Curt Connors
How unusual that the two Spider-Man villains who can boast showing up four of the five previous Spidey films are the Green Goblin (in some form) and Dr. Curt Connors! The bizarre part about Sam Raimi's portrayal is that Dylan Baker played the one-armed professor for three films but NEVER got to transform into his alter ego, the Lizard. So Marc Webb tried to rectify the sins of the Sam Raimi trilogy by letting Rhys Ifans play the Connors/Lizard combo in The Amazing Spider-Man… but the digital trickery needed to create the monster lacked an edge. Connors and the Lizard fall into the category of "Used Too Often" from the five Spider-Man movies, and it'd be a safe bet for Marvel and Sony to go in a completely different direction because Connors isn't as integral to Spidey's world as the movies have made him out to be. Connors has been in more Spider-Man movies than J. Jonah Jameson. That's not right.
Electro
And take your dub step with you! Max Dillon's a terrific villain. The power of Electro could make for a fantastic on-screen villain. But the lingering memory of Jamie Foxx in The Amazing Spider-Man 2 poisoned the proverbial well for the character for at least a few movies. Like so many of the people on this list, Electro was a decision made to avoid the mistakes of previous Spider-Man movies. Raimi used Sandman, Doc Ock and the Goblin, so Webb had to lean toward Lizard and Electro. Marvel can hit a gigantic, red "Reset" button and use whomever they want. In fact, I hope that Marvel gives us a perfect Green Goblin story soon, because Norman Osborn is akin to The Joker or Lex Luthor in the realms of Batman and Superman. You HAVE to use them. Electro is a third-tier character who has to create some distance between Foxx's portrayal, because using him in the next few years would be too soon.
Your Daily Blend of Entertainment News
Sean O'Connell is a journalist and CinemaBlend's Managing Editor. He's frequently found on Twitter at @Sean_OConnell. ReelBlend cohost. A movie junkie who's Infatuated with comic-book films. Helped get the Snyder Cut released, then wrote a book about it.
Your Daily Blend of Entertainment News
Thank you for signing up to CinemaBlend. You will receive a verification email shortly.
There was a problem. Please refresh the page and try again.