Absolutely Anything Trailer Has Monty Python Aliens Screwing With Simon Pegg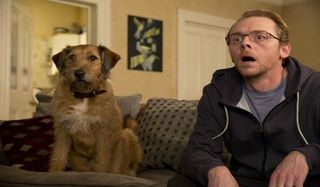 What would happen if Simon Pegg had the powers to grant himself every one of his wishes? Looks like we're all about to find out when Absolutely Anything hits theaters in August. Take a look at the first trailer for the upcoming comedy.
In the trailer for the new British science fiction comedy, Absolutely Anything, Simon Pegg—who plays a disgruntled school teacher Neil Clarke—is suddenly given the ability to grant himself anything he wants, thanks to a group of aliens who are watching him from space. The aliens—who are voiced by Monty Python alums John Cleese, Terry Gilliam, Eric Idle, Terry Jones and Michael Palin—bestow this gift onto Clarke in a last chance attempt to save the Earth from being destroyed. This irreverent comedy displays all the usual humor that fans of Monty Python and Simon Pegg could ever expect. Simon Pegg learns the hard way to be careful what you wish for and it's pure comedy gold.
According to an interview with Empire, writer Terry Jones—who co-wrote Absolutely Anything with Gavin Scott—credits the idea of the movie to the H.G. Wells story "The Man Who Could Work Miracles." In the British-comedy short story, H.G. Wells writes of a George McWhirter Fortheringay, who suddenly inhabits the ability to grant miracles while conversing with friends in an English pub. However, when his grandest miracle throws the entire planet into complete pandemonium, he uses his last two miracles to rid himself of the ability to grant miracles and restores time back to the point at which he first began discussing miracles with his friends in the pub, with no recollection of the aforementioned events ever taking place.
Although Absolutely Anything is strikingly similar to the H.G Wells story, the Jones and Scott reimagining has successfully managed to add unique sci-fi elements such as the power granting aliens and other comedic elements that have clearly updated the H.G. Wells classic story. And who better than the reigning king of British comedies, Simon Pegg, to get the job done.
Absolutely Anything is the quintessential Simon Pegg comedy, complete with a node to zombies. Anyone who has followed Pegg, who is best known for playing in the Three Flavours Cornetto Trilogy—Shaun of the Dead, Hot Fuzz and The World's End—knows that when Simon Pegg's every man character encounters fantastical elements, it is sure to bring laughs. Absolutely Anything hits theaters on August 14.
Your Daily Blend of Entertainment News