Absolutely Fabulous Is Finally Getting An Absolutely Fabulous Movie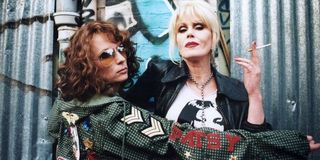 It has been over 20 years since Absolutely Fabulous first blitzed its way onto British television screens, but its evergreen popularity has convinced Jennifer Saunders to scribe a big-screen adaptation that she has now revealed she's just completed.
We haven't heard anything about further additions to Absolutely Fabulous' back catalogue since July 2012 when three new episodes were made to celebrate the show's 20th anniversary, Saunders has now revealed to the Daily Mirror that she has finished the first draft of an Absolutely Fabulous movie, and that it is her mission to shoot the film over the next 12 months.
Jennifer Saunders originally created Absolutely Fabulous alongside Dawn French as a sketch. However, she then proceeded to turn it into a television show without her long-time collaborator, and it almost instantly blossomed into one of the most popular programs on British television. It also garnered a rather feverish, cult audience across the world too, and this success resulted in 39 episodes of the comedy being broadcast over the course of 20 years.
Those of you who watched and adored Absolutely Fabulous during its many stints on American television – it was previously syndicated on Comedy Central, BBC America and Logo – will be well aware just how decadently heinous-yet-enthralling the series' cast of characters were. Absolutely Fabulous revolved around the antics of Edina Monsoon, the heavy-drinking, drug-addled PR agent that Jennifer Saunders played, and Patsy Stone, who was deliciously portrayed by Joanna Lumley. Despite the fact that both of these characters were middle-aged and really should have known better, they would constantly strive to remain hip while chasing a series of ever increasingly bizarre fads = all while consuming as many drugs and alcohol as they could possibly stuff into their bodies.
The pair were joined by Julia Sawalha's Saffron Monsoon, Edna's daughter who was constantly disgusted and enraged by her mother's exploits, and was also the permanent butt of both Edna and Patsy's jokes. Actresses June Whitfield and Jane Horrocks both appeared in regular roles, as Mother and Bubble respectively. Sadly at this point there aren't any details about just what Saunders has cooked up for the Absolutely Fabulous movie, but it's hard to imagine it happening without their involvement.
Jennifer Saunders is hungry to actually get the film made, saying that if she doesn't get it done soon than the whole process will be equitable to "a pointless year of procrastination." Her eagerness, however, apparently isn't necessarily getting in the way of her willingness to negotiate about how to go about making the movie. She joked to the British newspaper that she already has some thoughts about who could replace Joanna Lumley and her as Absolutely Fabulous' Patsy and Edina, respectively, saying, "That would be funny, Angelina Jolie and an orangutan."
Angelina Jolie basically starring in a remake of Every Which Way But Loose with a fake British accent and a lot more drugs, booze and insults? I think that's something that we can all get behind. Fingers crossed we will get to see Absolutely Fabulous: The Movie before the end of the year, but it's more likely to be at some point in 2016 instead.
Your Daily Blend of Entertainment News
Thank you for signing up to CinemaBlend. You will receive a verification email shortly.
There was a problem. Please refresh the page and try again.