Adam Driver Denies Nightwing Rumor, Steven McQueen Starts His Own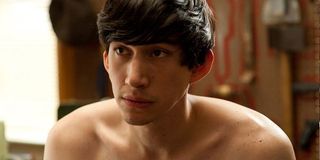 Oh, Adam Driver, you drive us crazy. First we hated you (well, your character also named Adam) on HBO's Girls for all your reckless nonchalance and inability to wear a shirt. Then, season two made us feel conflicted as Adam's pining for Hanna broke hearts and his sexual aggressiveness made us wildly uncomfortable (to say the least.) Then you effortlessly stole scenes in the Coen Bros' Inside Llewyn Davis , before being rumored for the role of Nightwing in the Man of Steel sequel Batman Vs. Superman. But now you're telling us that last rumor is bunk? How dare you!
In a video interview with Collider, which you can see in part below, Driver says there is no truth to the rumor he's a frontrunner for Nightwing. "Not that I know of, no," he says plainly. But he of course appreciates the idea, saying:
The possibility of Nightwing's involvement first surfaced earlier this month, when the filmmakers behind Batman Vs. Superman reportedly began looking for "a young John Hawkes type" to play the part of Dick Grayson, the older, wiser, and broodier version of boy wonder Robin. This description seems a good fit for Driver, as it suggests more a character actor over a brawny, blandsome leading man. But speaking of brawny, blandsome leading men, The Mary Sue has drawn our attention to this tweet from Steven McQueen of The Vampire Diaries.
However, as you can see by who he's looped into this none-too-subtle message, McQueen's not pushing for a part in Batman Vs. Superman. He seems to be politicking for a role on the TV series Arrow by tweeting at its writers, casting agency, writer and executive producer Greg Berlanti, and Nightwing comic writer Kyle Higgins. There's been no mention of Nightwing joining the band of superheroes on this show, but maybe McQueen knows something we don't.
While we wait for these murmurs to evaporate or prove worthwhile, weigh in on who you'd like to see play Nightwing (in either film or television) below.
This poll is no longer available.
Your Daily Blend of Entertainment News
Staff writer at CinemaBlend.