Adam Sandler And Hasbro Making An Animated Tonka Trucks Movie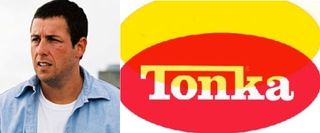 Adam Sandler has already caused more destruction to the cinematic landscape than most people, thanks to Jack & Jill and Grown Ups and the upcoming That's My Boy, but Hasbro is not far behind him. Yes, they're responsible for many of the toys you loved in your childhood, but also the terrible adaptations of them, from the Transformers series to the recent Battleship to the Monopoly, Risk and Ouija movies they're still promising. Hasbro and Sandler have already made plans to unite their destructive powers, with plans for a Candy Land movie, and now the terrible twosome has extended their deal, to yes, another toy.
At least in this one we'll only be dealing with Sandler offscreen. According to THR, Sandler's Happy Madison Productions are teaming with Hasbro and Sony to make an animated film based on Tonka Trucks, which are of course the metal and plastic toy cars and trucks that… well, they have no other story to them whatsoever. As you might guess from the fact that it's animated and based on toys, they're aiming for a film with "multi-generational" appeal here, which means it won't quite be as raunchy as most Sandler projects. Then again, Grown Ups was also an inexplicable hit with families-- and with Grown Ups writer Fred Wolf on board to handle the script, it might be more boundary-pushing than you think.
I admit, I haven't even seen That's My Boy, and don't plan to, but the fact of its very existence fills me with enough dread that I kind of feel like I have. Adam Sandler seriously needs to be stopped, and while developing animated family films isn't quite as bad as playing his own sibling or making the sequel to Grown Ups 2, it's probably not making the world much better either.
Staff Writer at CinemaBlend
Your Daily Blend of Entertainment News
Thank you for signing up to CinemaBlend. You will receive a verification email shortly.
There was a problem. Please refresh the page and try again.