Akira Now Testing Ezra Miller, Alden Ehrenreich To Play Tetsuo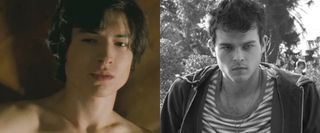 With Garrett Hedlund in talks to star in the live-action Akira movie, whether you want him to or not, it's now time to figure out which other actors might fill in the American adaptation of the famous manga series and animated film. As you might know, Akira focuses on two young male members of a biker gang, Tetsuo and Kaneda, and with Hedlund in talks to play Kaneda, they've got dozens of other young actors lining up for the role Tetsuo, who starts showing psychic powers and attracts the attention of the government, who wants to research him.
THR says Warner Bros. is reading a lot of actors for the part, but the names mentioned most often are Ezra Miller and Alden Ehrenrenreich, both up-and-comers without titles even as big as Hedlund's Tron: Legacy to their names. Miller will be seen soon in Lynne Ramsey's grim indie We Need To Talk About Kevin, but you might also recognize him from Californication, the indie City Island or USA's Royal Pains. Ehrenreich emerged seemingly from nowhere to star in Francis Ford Coppola's Tetro, and since then has been cast in the vampire story Stoker, and was also one of the names rumored for The Amazing Spider-Man, if you remember those heady days before Andrew Garfield got the part.
Both Miller and Ehrenreich seemed more interested in making their names as serious actors in small-scale films-- Ehrenreich has the favor of the Coppola family and that's no small thing-- but I guess when Warner Bros. comes calling with a franchise and a big paycheck, you'd be an idiot to say no. Now that Akira has a green light we can reasonably expect this long-delayed project to actually happen, though no matter how many interesting actors they look to cast, it's hard to imagine anime fans or anyone familiar with the original will see this movie as anything but doomed.
Your Daily Blend of Entertainment News
Staff Writer at CinemaBlend