Rock Of Ages Stars Julianne Hough And Diego Boneta Talk Tom Cruise Boob Grabs And Rock College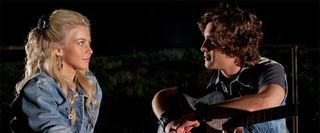 Tom Cruise is the epitome of a movie star. Ever since he broke onto the scene in the mid-80s with movies like Risky Business, Top Gun and Cocktail he has established himself as an actor who men can cheer for and who women can swoon over. So, naturally it was quite the experience when Julianne Hough was filming Adam Shankman's Rock of Ages and was introduced to Cruise's character by having him grab her boob.
With the jukebox musical out in theaters this weekend, I was recently invited to participate in a roundtable interview with both Julianne Hough and Diego Boneta, the two stars of the film, to discuss the experience making the movie. Check out the conversation below in which the pair share stories about working with Shankman as a director, the preparation process for their roles, and working with so many talented other artists
Did you two watch the play before you ended up on set?
Julianne Hough: I saw it before and then I saw it after. I was the most annoying person in the theater because my friends that were with me I was like "Oh we changed this part" and "Oh that character isn't even in it." They're like, "Julianne, shut up." [laughs] So I'm glad I saw it before.
Diego Boneta: I saw it after. Adam [Shankman] did not want me to see it before because there was going to be changes from the movie to the musical and didn't want me to be influenced by them. But the first thing I did when we wrapped was that I flew up to New York and I watched the play. I was very impressed by what they did with adapting the play to the movie because it's not an easy musical to adapt. You have people drinking in the audience and actors breaking the fourth wall. How do you make that fun on screen? And Justin Theroux who wrote this really did an amazing job with it. When I watched it I was laughing the entire time. It's for sure the funniest musical I have ever seen and Adam did an amazing job...
Hough: It's a dude-sical. [laughs]
Can you guys talk about the chemistry with you two working together and making that relationship come together on screen over the transition of the different parts between you guys meeting, to the break-up, to the back together, all of that.
Hough: Yeah, it was really hard working with him. I'm just kidding! [laughs]
Boneta: We're really good actors.
Hough: Nah, he was awesome. We were the kids on set and we were there from the beginning to the very end of the shoot. We got to know each other for six weeks prior because we were doing our little rock college thing where we were doing vocal lessons, dance lessons, recording, guitar lessons for him. We had that bond before we even started shooting but the first week of shooting we had to shoot the Hollywood scene break-up so that was kind of interesting. We hadn't really acted together and we broke up so yeah.
Boneta: I feel like we really bonded even before shooting, like Julianne said, because we were both on the same page. Julianne is an amazing, talented actress and we wanted to bring our A-game to this. We only have Tom Cruise, Alec Baldwin and Catherine Zeta-Jones in the movie. So we wanted to really deliver and we were both learning as much as we could, rehearsing, prepping and she became my sister throughout that whole process.
Hough: A sister he makes out with. [laughs]
Boneta: Guys, it's 2012!
Julianne, you mentioned going to rock college during prepping. Did that involve the rest of the cast as well? Did you interact with them there?
Hough: I guess we were in different colleges around the country because yeah, we were all prepping. Guitar lessons for Tom and singing lessons for Tom as well as choreography and dance lessons with Catherine and Russell [Brand] and Alec. We were all prepping beforehand but it was just kind of him and I that were kind of joined at the hip. We even had to do roller blading lessons. Probably for safety but we were laughing the whole time. It was like really, we're having roller blading lessons? [laughs] But yeah, it was fun.
Did you have any kind of pressure working with Tom Cruise, Catherine Zeta-Jones and all those stars?
Boneta: At first I was nervous, I was a bit intimidated because these guys are the biggest movie stars right now. It's my first movie and I was kind of nervous. But then when we met them, and seeing how passionate they were on set and how they were also prepping and how excited they were, from being intimidated it went to being motivated. Seeing Tom on set, he was treating this movie like it was his first and last movie. He was so excited and was full of energy. He's a movie star, he's a rock star, there's nothing that man can't do.
Hough: I was bummed I didn't get to do any scenes with Catherine because I mean, as a female actor kind of coming up that's the epitome of a beautiful female movie star. I still get nervous around her. I saw her yesterday and I was nervous. She walked in, the first time I saw her, in like this gorgeous white suit and just exuded movie star. She wears movie star perfume. She's gorgeous, beautiful on the inside and out.
As a choreographer, how did you feel about the choreography in the movie?
Hough: Yeah. I've choreographed my whole life and danced my whole life. But when it comes to me and [Mia] Michaels, I will back off one hundred and fifty percent because she is the best choreographer. She has the best vision and she has a certain style and mine's different. If I could have her style over mine I probably would. She's absolutely out of this world brilliant. It was fun though to be able to trust somebody that much because I always have my own little inputter. I'm like oh it could always be a little better. And hands down, Mia's the best.
Have they asked you to be a choreographer in a movie you aren't in?
Hough: Oh, no. No. But I've done choreography jobs for artists in music videos, certain things like that.
Diego, do you think that this movie will give you the push that you need to stay in Hollywood?
For both of you, what was your favorite part about working with Adam Shankman? I hear he's a total goofball.
Hough: He's a goofball? I think that's an understatement. He is like crazy insane fun. Just seeing him in the hallway, he is just a burst of red with a shirt just running down the hallway. [laughs] He looks like a bird when he walks and I love it. He's so happy though and he really loves what he does. That just translates to his work and just to us. Everybody has to be around him every single day and to have that kind of energy is pretty great.
Boneta: My favorite thing, and I think this just answers your question big time, there was a very fancy production office and Adam had a very fancy office. I don't think he was there once. His office was at the choreography warehouse with no air conditioning with this plastic white table, a plastic chair and was there every single day. That's where we worked from with Mia [Michaels] and that's how involved he was. He was, I mean every detail, he was in the trenches working just as much as anyone else was. When you have someone like that directing, you can see that on screen.
Can you talk about what it felt like to perform a song so big and powerful like "I Wanna Rock," and this being your first movie, to be able to do that on screen and look like a rock star?
Boneta: That was a tough, a very tough performance. It was a workout with that guitar and working up and down. It was tough but it felt like a concert. That was a live audience and every single take it was like feeding off their energy. Thank you, that really means a lot to me.
You mentioned multiple takes. Was it hard keeping in the mindset of when you keep performing over and over again, is that something you have to try and keep in focus?
Boneta: Yeah, and that's where the audience really helps you. You feed off their energy and it's literally like being in a concert just singing the same song. So you have to be able to refresh.
Julianne, what was it like having Tom Cruise touch your boob?
Hough: [laughs] Well...
Was that weird? Because it's so...
Hough: I remember it like it was yesterday. No, I mean it's definitely strange but I always have that now. [laughs] Actually what's funny too is I can't remember what Catherine said but there's a part where, I think it's out of the movie, or does he do it where he grabs her boob and he remembers her? It's so funny because she's such a broad, mouth like a sailor and just super cool. She said something that was pretty true to how I felt too. "If he comes back over one more time I could hang my jacket on him." But it's true! You get so excited. Look at his abs. He walks over there and then he's grabbing your boob. I mean, what do you do? You do exactly what I did which is no acting whatsoever.
I think one of the changes from the musical to the movie is that Sherrie doesn't sleep with Stacy, but in the musical she does. This time it's just a misunderstanding. Could you talk about how that change adds some integrity to her character and how it's sort of important to take that change?
Hough: Well I think that for the movie I think that people want to root for the couple, the love story. Who wants to know that she slept with him? You don't want that. Even in real life if it did happen you still don't want that. I think that's also why "Rock You Like A Hurricane," which was Tom and I's really sexy lap dance performance got cut out. I think it just cheapened Sherrie a little and I don't think women really liked her as much. So yeah, we wanted to make Sherrie likable and we wanted to root for the couple. I think it would be a lot harder for Drew to appreciate Sherrie and fall back in love with her if she had done that. I think you just feel more for them and also for Stacey Jaxx. You don't want to really despise him either. The other girls, you don't know who they are, they're groupies, but when there's connection with the characters you don't want to see that.
I actually want to follow up on that because Mary J Blige's character sort of motivates her to empower herself to go from being a waitress to a stripper. What do you think of that sort of message that it kind of gives to girls? Because it's not a really great message.
Hough: It's not a great message in the literal sense, as far as yeah, you don't really want to go up on a stripper pole because that's what men like. But I think that if you're confident in who you are and you're secure in who you are, you can do whatever somebody asks you to do and you're not going to lose your integrity and who you are. And there you go! [laughs] That was intense.
NJ native who calls LA home; lives in a Dreamatorium. A decade-plus CinemaBlend veteran; endlessly enthusiastic about the career he's dreamt of since seventh grade.
Your Daily Blend of Entertainment News
Thank you for signing up to CinemaBlend. You will receive a verification email shortly.
There was a problem. Please refresh the page and try again.