Amanda Seyfried's Lovelace Hit With Lawsuit From Deep Throat Porn Producers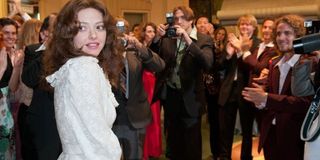 They've barely finished fighting the MPAA and Warner Bros. over the title to what's now called Lee Daniels' The Butler, and the Weinstein Company is once again in legal hot water. Deadline reports that Arrow Productions, the company behind the iconic 1972 porn Deep Throat, is suing the Weinstein Company over the upcoming Lovelace, which Weinstein subsidiary Radius-TWC is bringing to VOD and to theaters on August 9. A biopic about the actress Linda Lovelace (played by Amanda Seyfried), who became extremely famous after starring in Deep Throat, Lovelace recreates several scenes from the 1972 film and uses the Deep Throat trademark-- both no-nos, according to Arrow Productions.
You can read the full complaint here, in which Arrow explains that they not only have Deep Throat copyrighted but the name "Linda Lovelace," which was adopted by Linda Susan Boreman Traynor when she starred in the film. It's unnerving to see Arrow claim that Lovelace is a "character," given the way that Lovelace reveals how the association with that name helped destroy Linda's life. But, based on what they put in this brief, they've got a fair case to make. Arrow claims that they have allowed other productions to license Deep Throat in the past, but seem to take special exception with Lovelace, which shows how Linda was threatened by her husband Chuck Traynor (played by Peter Sarsgaard) during the film's production, and later came to regret making the film at all. Arrow says that Linda "later recanted those claims," but that Deep Throat "has suffered far more controversy than the typical film does and it has been harmed far more than the typical film has been by untrue and unfair attacks and mischaracterizations."
It's true that Deep Throat is under a bigger spotlight than nearly any other porn ever made, both thanks to Linda's later campaigns against pornography and its association with the Watergate scandal by the anonymous source who went by "Deep Throat" and became famous in All The President's Men. But Arrow is crazy if they don't think that controversy has helped burnish Deep Throat's reputation over the years. It's a decades-old porn that, in a time of unlimited porn available online, would be completely obsolete if not for all the stories that surround it. If Lovelace hasn't drummed up new interest in Deep Throat-- and made Arrow some cash in the process-- I'll eat a hat as large as Linda's. What this really seems to be about is the Weinsteins and Millennium, the film's producers, not bothering to ask for permission. And while they could very well be nailed on that, that seems to be part of doing business for the Weinsteins, who never met a legal controversy they didn't like.
Check out the Lovelace trailer below to get a look at what's causing all the controversy.
Your Daily Blend of Entertainment News
Staff Writer at CinemaBlend