The Amazing Spider-Man 2 Wants Jamie Foxx As Electro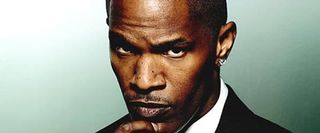 He's about to have one of the biggest roles of his career as this December's Django Unchained, but Jamie Foxx has already lined up a new role that may eclipse even that one. The comedian-turned-movie-star is reportedly in early talks to play the villain in The Amazing Spider-Man 2, reportedly as the hyper-electric baddie Electro.
According to Variety, the Electro character could be tied into the post-credits scene featured in this summer's The Amazing Spider-Man, which involved a mysterious man talking to that film's villain, Curt Connors, but with a lot of lightning flashing in the background. That connection seems like a stretch to me, but The Amazing Spider-Man took pains to set up a mythology that woudl likely expand into the next film, so whatever Electro winds up doing in the sequel, it should somehow be linked to the destruction caused by The Lizard in the first film.
As for Foxx, he's never had a role in a superhero film before, and since winning an Oscar for Ray in 2004, has taken on a diverse mix of comedies and action films, many of which would up as box office or critical disappointments (Miami Vice, Dreamgirls, The Kingdom, The Soloist, Law Abiding Citizen and Valentine's Day represent a pretty rough stretch of the mid to late 00s. But with Django Unchained on its way he's poised to establish himself as a top-flight talent once again, and his hiring for The Amazing Spider-Man might suggest there are truly great things waiting in that Tarantino-directed performance that nobody has officially seen yet. It's kind of amazing to think that a guy who got his start on In Living Color will now be menacing Peter Parker on the streets of New York, but surprises like that are what keep modern superhero movies interesting, after all.
Staff Writer at CinemaBlend
Your Daily Blend of Entertainment News
Thank you for signing up to CinemaBlend. You will receive a verification email shortly.
There was a problem. Please refresh the page and try again.