American Pie's Theatrical Reboot Confirmed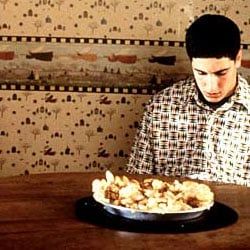 It was months ago that Moviehole first broke the story that Universal was planning to break off making bad, direct-to-DVD American Pie sequels in an effort to get the franchise in theaters. Now the LA Times has confirmed the story and says Harold and Kumar writers Jon Hurwitz and Hayden Schlossberg have been hired to write the script. I hope this doesn't delay A Very Harold and Kumar Christmas.
Word is still that this won't be some sort of franchise reboot, but rather a direct sequel to the last theatrical installment of the American Pie franchise, American Wedding. In the interim since then the studio has released a whole host of poorly received direct-to-DVD sequels, usually without most of the primary cast. Now forgetting those exist seems like the best course of action as they move forward.
Since this is supposed to be an official sequel it's reasonable to assume that most if not all of the primary cast would return, though that hasn't been confirmed and since Universal is staying tight lipped there's no way to know how they'd work them all in. Seann William Scott, Jason Biggs, Shannon Elizabeth, Alyson Hannigan, were among the primary players in the original movies. At least half of them haven't found anything better to do since. It should be no problem to get them back.
Of course the real question is: do we want them back? American Pie got the attention it did in part because of when it happened to exist. The 90s were a decade of comedic Puritanism. The raunchy, sex-filled comedies of the 80s had been relegated to the niche, independent realm of filmmakers like Kevin Smith and in their place were more toned down comedic offerings. American Pie flew in the face of that to deliver mainstream comedic raunch, of the kind that in the new millennium has once again become commonplace, in large part because of what American Pie did back in 1999. Now though, it's less of a novelty. Is American Pie still funny in a post-Apatow world? I'm not sure.
Your Daily Blend of Entertainment News