An X-Men And Fantastic Four Crossover? Here's What The Cast Says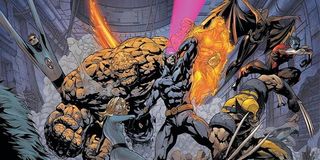 It's not everyday you get the cast of the new Fantastic Four movie in the same room with X-Men director Bryan Singer. But that's Comic-Con for you. A recent rumor pegged Singer as a candidate to helm Fantastic Four 2 with the intention of crossing over Marvel's first family into the world of mutants. While at the time we took this with a grain of salt, we had the opportunity to ask Miles Teller, Kate Mara, Michael B. Jordan and Jamie Bell about the validity of this report. And it just so happened that Singer was sitting a table's length away.
When initially asked about the potential for a Fantastic Four/X-Men crossover, Teller, who plays Mr. Fantastic, said,
Bell, who plays The Thing, followed up.
While trying to calculate how many X-Men movies there have actually been, Singer chimed in. The filmmaker was being interviewed by another reporter in the corner of the room and called over to the Fantastic Four crew when he heard his name. "Thank God we didn't say anything," Teller laughed. "Bryan, what's the rumors, man?" As it turns out, Singer was in the middle of answering a similar question regarding franchises and crossovers when he heard his name dropped a few feet away. Neither the actors nor Singer would confirm or deny the validity of the rumor, so take that for what it's worth. But Teller did follow-up with Singer before returning to the conversation at hand.
A Fantastic Four/X-Men crossover has been rumored for quite some time. Days of Future Past actor Sean Astin recently remarked that it "would be dope" to see these two properties unite, while X-Men writer-producer Simon Kinberg stated that the hypothetical notion of doing something like this is "intriguing" and said that it's "not out of the realm of possibility." The fact that the actors and Singer danced around the subject seems telling, but we'll have to wait and see (perhaps at the upcoming Fox panel) whether there's any truth.
Fantastic Four hits theaters on August 7 and a sequel is already scheduled for release on June 9, 2017.
Your Daily Blend of Entertainment News