Alejandro Gonzalez Inarritu No Longer Directing The Jungle Book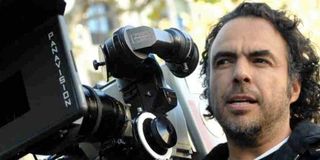 We've got ourselves another competing project-logjam! The good old days of Volcano/Dante's Peak, Babe and Gordy and Prefontaine and Without Limits is still with us, as proved by last year's Olympus Has Fallen/White House Down confrontation. Studios have tried to avoid this in recent years, axing a Howard Hughes film by Chris Nolan and an Alexander The Great film by Baz Luhrman, but sometimes you just end up with two competing Truman Capote movies. It happens, and it's about to happen again: Rudyard Kipling's The Jungle Book is in the public domain, which means we could have two versions of the film coming up.
Disney's version has the strength of Iron Man architect Jon Favreau onboard. It also has an association with the source material, having provided the classic animated adaptation from the sixties, not to mention a live-action version in 1994 that grossed $43 million, which in 2014 dollars translates to $900 billion and a half, roughly. Warner Bros. thought they had an ace in the hole with Alejandro Gonzalez Inarritu, the whimsy-provider who previously directed Babel. It's easy to see how this could have been Inarritu's Life Of Pi, but Deadline reports that he's now out, with the studio seeking a replacement.
The belief is that Inarritu bolted because of scheduling reasons, with the WB racing the Disney version to the screen. Disney's not the type to fold, but it would inconvenience them if the WB Jungle Book hit the big screen first; the WB would likely fold the project if Disney got there first, and right now they certainly have a leg up. The WB version, penned by Callie Kloves (son of Steve Kloves, a Harry Potter scribe), is looking to get started immediately, though it's possible Inarritu wanted more time: he's also putting the finishing touches on his ambitious show business comedy Birdman, which stars Michael Keaton, Emma Stone, Edward Norton, Naomi Watts, Andrea Riseborough and Zach Galifianakis.
Inarritu has also long been attached to The Revenant a badass bearfight actioner that's been in development with a number of interesting leading men attached, including Christian Bale, Samuel L. Jackson and Sean Penn. That story, like The Jungle Book, involves a man who survives in the wilderness alone. In this case, however, that man is left for dead by his partners after a bear attack, determined to seek revenge. The bleakness of that seems more fitting for Inarritu, a man who has trafficked in miserablism and despair in his earlier films. Maybe Birdman is a sign that he wants to try something new, and the man's raw talent is enough to suggest that could, and should happen soon. Not on The Jungle Book, though.
Your Daily Blend of Entertainment News
Thank you for signing up to CinemaBlend. You will receive a verification email shortly.
There was a problem. Please refresh the page and try again.