Anna Paquin And Tom Hiddleston Join Elijah Wood Noir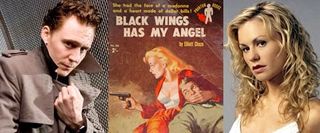 Elijah Wood has good news for noir fans, as the actor turned producer is adapting Elliott Chaze's lauded 1953 crime novel Black Wings Has My Angel into a feature film with some tantalizing talent attached. Screen Daily reveals True Blood temptress Anna Paquin has signed on to co-star opposite intriguing Thor antagonist Tom Hiddleston in the thriller that centers on an armored car heist that forever changes the lives of a thief and the call girl he's fallen for.
Black Wings Has My Angel has proved a passion project for producer and co-writer Christopher Peditto, who Cinematical reported spent more than a decade working to secure the rights to the novel that had been out of print for nearly 50 years. He's crafted the resulting screenplay with Wild At Heart screenwriter Barry Gifford and the film's attached director Alfonso Pineda Ulloa. The Mexican writer-director who is currently in post-production on his last effort, the hotel-set drama Restos, will make his English-language feature debut with Black Wings Has My Angel.
As to the cast, Paquin will play the call girl named Virginia, who meets cold but sexy ex-con Tim Sunblade at a Mississippi motel and follows him all the way to Colorado for a brazen robbery. While Wood is also slated to co-star in the film, it seems certain the role of Sunblade has more likely been given to Hiddleston, as this past summer showed that the English actor is not only a compelling antagonist, but also a crush-inspiring leading man. While Wood's role still remains a mystery, with Hiddleston and Paquin on board, Black Wings Has My Angel is sure to capture the scintillating sex appeal inherent in crime-thrillers from noir's heyday.
Black Wings Has My Angel is expected to shoot this September.
Your Daily Blend of Entertainment News
Staff writer at CinemaBlend.
Your Daily Blend of Entertainment News
Thank you for signing up to CinemaBlend. You will receive a verification email shortly.
There was a problem. Please refresh the page and try again.