Anne Hathaway Tries To Describe Her New Movie, Can't Stop Laughing Over How Silly It Sounds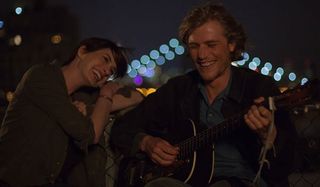 Anne Hathaway's new film, Song One, is an emotional tour-de-force that revolves around one sister's attempt to reconnect with her brother, who is in a coma. But during the actress' promotional effort on Wednesday night's episode of The Daily Show made it sound as if Song One is a laugh-a-minute comedy. That's because she got the giggles and couldn't stop chuckling during her discussion with Jon Stewart. (The laughs starting to come out about 2:20 into the clip)
Anne Hathaway's inappropriate bout of the giggles came as she tried to explain the plot to Song One, and, as you can see, it didn't go too well. A little over two minutes after Jon Stewart had introduced Hathaway to his audience, the actress found herself chuckling. And she didn't stop. In fact, she laughed her way through the remainder of her Daily Show interview. All she'd done before that was reveal that Song One's music had been created by Rilo Kiley's Jenny Lewis and Jonathan Rice, while she'd also explained why she didn't sing in the film. But then when she started to discuss her character and Song One's plot all hell broke lose.
Song One sees Anne Hathaway play Franny, a young anthropologist getting her PhD in Morocco who grow up way too fast due to a traumatic event in her childhood. This meant that she never explored her artistic side. She's forced to return to New York to care for her brother after he is hit by a car and falls into a coma. After she'd explained the incredibly melodramatic plot to Jon Stewart, the pair instantly cracked up. The audience reacted in shock at Jon Stewart and Anne Hathaway's impromptu burst of mirth. Which was probably because, for all intents and purposes, they were chuckling at the fact that the character was in a coma.
You can check out the Song One's trailer to get a real sense of its plot and characters, below.
Stewart and Hathaway battled hard to get some semblance of the interview back, but they failed miserably as the Oscar-winning actress just couldn't stop laughing. In all honestly, though, it's probably a good thing. Anne Hathaway has previously struggled to win public favor because of her allegedly stuffy personality, which especially came to a head after her tedious speech following her Oscar win. This interview proved just how laid-back and down to earth she can be. Just don't expect Song One to feature as many laughs.
Your Daily Blend of Entertainment News
Thank you for signing up to CinemaBlend. You will receive a verification email shortly.
There was a problem. Please refresh the page and try again.