Another Badass Walking Dead Cast Member Joins The Tupac Biopic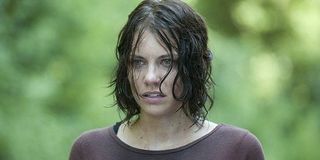 The upcoming Tupac Shakur biopic has signed up one of The Walking Dead's hottest stars in the shape of Lauren Cohan. The 34-year-old actress has been a key figure on the hit AMC show for six seasons, but it looks as though she's now planning on making the transition to the big screen with the anticipated music biography.
According to Deadline, Lauren Cohan will play Leila Steinberg in All Eyez On Me, which focuses on Tupac Shakur's rise to becoming one of the most popular rappers in hip hop history. Steinberg was a huge influence on Tupac's life, meeting Shakur when he she was only 17, then helping to mentor him. Cohan is the second member of The Walking Dead to join the cast of All Eyez On Me, as Danai Gurira, who plays Michonne on the horror drama, has already signed up. The Wire's Jamie Hector and The Vampire Diaries' Kat Graham will also feature.
All Eyez On Me, named after the fourth studio album from 2Pac, is actually already in production, with principal photography having begun back in the middle of December. The decision was made to cast newcomer Demetrius Shipp, Jr. as Shakur, while Jamal Woolard, who played Tupac's rival Notorious B.I.G. in the biopic Notorious, will do so again.
There's hope that All Eyez On Me will follow the success of Straight Outta Compton, which focused on the rise and fall of N.W.A. When it was released last summer it went on to gross $200 million, and now studios across Hollywood are looking for their own similar projects to develop.
Tupac Shakur came to her writing workshop when he was still just 17-years-old, and Leila Steinberg decided to mentor him after instantly recognising that he had a special talent. But it wasn't just Steinberg who influenced the artist, it also worked the other way round, because the pair began the get the best out of each other.
Tupac Shakur assisted Steinberg as she transitioned into becoming a business manager, and she ended up becoming a huge and pivotal figure in his young life and as his career progressed. Between 1987 and 1996, when he was gunned down in Las Vegas at the age of just 25, Tupac sold over 75 million records. He is also widely regarded as one of the greatest rappers of all time, and his influence is felt across many genres. Basically, his story from humble beginnings to his ascension as one of the finest musicians ever is ripe for cinematic adaptation.
Leila Steinberg still works as a mentor, and it's quite clear that she has been an integral part in bringing people from poverty and privilege together when they would never have met otherwise. In fact, she's been doing this now for over 30 years, and is currently doing so through a non-profit called aim4theheart.org. We'll see if All Eyez On Me can do her justice when it's released on November 18, 2016.
Your Daily Blend of Entertainment News