Ant-Man's Costume Has One Massive Flaw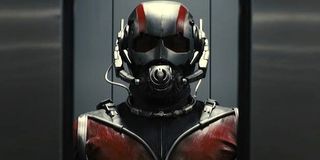 While comic book purists are generally hard to please, the comic-inspired costume that Paul Rudd wears in the upcoming Ant-Man seems to be controversy-free. However, some notable critics regarding the unitards's utilitarian value happen to be the people who created the getup. Apparently, a gaping, potentially fatal flaw was left in the design for the sake of aesthetics for the would-be Avengers team member.
So what happened? In an interview featured in the latest issue of Empire, costume designers Sammy Sheldon and Ivo Coveney discuss the loosely-based logistics behind the Ant-Man suit worn by Rudd's Scott Lang. Adhering to realism in one sense, the suit is designed to be self-contained, since oxygen molecules would be too large to breathe for a shrunken superhero. However, that aspect also takes form with two crucial cables jutting out the side of his helmet. As Coveney comments:
Despite this easily-fixable flaw, it's clear that the wires were viewed as an indelible aspect of the costume. The team of Sheldon and Coveney, who openly made this supposed style-over-substance design choice, have been on board the Peyton Reed-directed Ant-Man project since the days it still called Edgar Wright its skipper. In fact, the Borg-like fashion choice can even be seen going way back to the leaked test footage from the film that made its way across the web back in 2012. (Evidenced in the image above.) However, seeing as this was clearly an intentionally instituted attachment, could there be something more to those tubes?
The Empire piece hints at "mysterious chemicals" being channeled across Lang's body by way of tubing. For those aforementioned comic-book purists, such an idea could point to the concept of "Pym Particles." To emphasize, the comic book canon, instead of a super-suit, traditionally explains the size-shaping abilities of Ant-Man, who is Hank Pym in the comics by ingestible serums he developed that alter his subatomic structure called Pym Particles. Thus, the purist-pleasing presence of Pym Particles could be one explanation for the Achilles-esque attachments. (Though, that's still failing to explain why they have to be exposed.)
As a result, Ant-Man is essentially running around with things on the sides of his head that are the equivalent of boxes of kryptonite with easily openable handles affixed to Superman's shoulders. As the film unfolds, we clearly see him matching wits and super-powered brawn with Yellowjacket (Corey Stoll), who, at some point in the film will pilfer the same technology developed by Dr. Hank Pym (Michael Douglas) for his own sinister, likely-greed-influenced purposes. As we've seen in the various trailer footage, Yellowjacket's outfit is remarkably more streamlined and notably free of any graspable "death cables."
We'll have to see if the film's repugnant rogue does, in fact, take advantage of this supposed flaw and if it's responsible for Pym Particles or just simple, indiscreet on the-the-go testosterone replacement treatments when Ant-Man shrinks its way past movie ushers to hit theaters on July 17.
Your Daily Blend of Entertainment News
Thank you for signing up to CinemaBlend. You will receive a verification email shortly.
There was a problem. Please refresh the page and try again.