Evangeline Lilly Calls New Ant-Man Script More American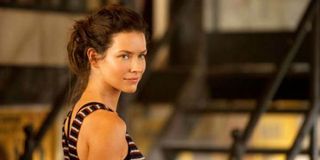 Evangeline Lilly has been quite vocal during her latest project, Marvel's Ant-Man. Her role as Hope Van Dyne has been teased as far more important than we'd previously thought, and from what it sounds Lilly has been an active member of the production. She's previously commented on the change of script and direction after Edgar Wright's departure, but now she's claimed that the main difference is that the new script is far more American.
In a recent issue of Empire Magazine, the cast and new Ant-Man director Peyton Reed opened up about the upcoming film and what to expect. Evangeline Lilly was among the interviewees and revealed one of the more interesting details about the Paul Rudd and Adam McKay's changes to Edgar Wright's original screenplay. Lilly told Empire (via Comic Book Movie):
It's difficult to say whether or not that's a compliment. We'll likely only know once we see the film. But Lilly has previously commented on the nature of the script and while complimenting Wright on his incredible vision of the story and character, the consensus is that his script just did not fit into the Marvel Cinematic Universe, and the tone of which that universe has set. It would make sense to call the MCU more American in nature, and in that case, potentially seeing how Wright's script could have fell short on establishing that specific aesthetic, if you will. But, when you take a look at all the time and effort Wright put into the project (not to mention all the praise) before he departed, it'll be difficult not to compare the final product to 'what could've been'.
Despite Wright's decision to leave though, the new director, Peyton Reed told Empire that he still has been communicating with the previous helmer. Reed explained that it was hard not to, when Wright put so much time into developing it. So, some of Wright's more 'English' ways still may show up in the upcoming film. But for now, we'll just have to wait and see. Ant-Man is set to hit theaters on July 17.
Your Daily Blend of Entertainment News