Ant-Man May Include Falcon And Other Avengers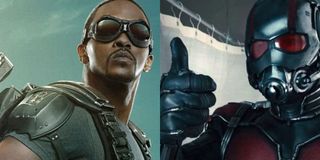 With only a few months left till the highly anticipated Ant-Man arrives in theaters, we are slowly putting the pieces together in what to expect. A few days ago a potential spoiler regarding a surprise villain was teased and now, big players in the cast and crew have opened up on the film in an exposing interview. Specifically, director Peyton Reed has teased an appearance from Earth's Mightiest including Anthony Mackie's Falcon and other Avengers.
Reed was obviously quite hush-hush about the whole situation, not wanting to give away any surprises he has in store for viewers, but in Empire Magazine's recent Ant-Man cover issue, some interesting tidbits were revealed. The magazine prompted Reed on the notion that Falcon and other Avengers may be making an appearance in the upcoming Marvel installment, to which Reed responded (via Comic Book Movie):
Not much to go off of, but the possibility is more than we've gotten before. And since the announcement that Ant-Man will be appearing in Captain America: Civil War, it does make sense that there would be some sort of Avengers cameo to recruit Scott Lang. Civil War is slated for 2016, less than a year following Paul Rudd's introduction as Ant-Man. And aside from the Deadpool film slated for early 2016, Civil War is the next Avengers-based film following Ant-Man.
It's all up in the air right now as of whether or not Falcon and fellow Avengers will show up in the film or just as an after-credits cameo, but it is an exciting prospect to hear Reed has not ruled that out for fans. What we know so far about Ant-Man is that it will focus on the origin story of Paul Rudd's Scott Lang and his relationship with the original Ant-Man, Michael Douglas' Hank Pym. Evangeline Lilly will play Hope Van Dyne and Corey Stoll as Darren Cross/Yellowjacket. When Cross discovers Pym has been keeping the Ant-Man technology secret, it prompts him to steal it for himself. But the Ant-Man tech can be lethal in the wrong hands, and Pym fears the implications of giving everyone these God-like powers. It's a theme we've seen explored time and time again in Marvel movies. What happens when extreme power is put in the wrong hands?
From the looks of it, Ant-Man's involvement in Civil War along with the possibility of Avenger appearances in Ant-Man, could mean an extreme war that needs all parties involved. And possibly could carry over into Civil War. We'll see where the Avengers fit in when Ant-Man hits theaters July 17.
Your Daily Blend of Entertainment News
Thank you for signing up to CinemaBlend. You will receive a verification email shortly.
There was a problem. Please refresh the page and try again.