Ant-Man Will Appear In Captain America: Civil War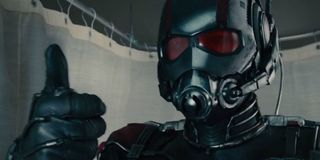 Captain America: Civil War is currently filming with its immense cast in Atlanta, Georgia, and it's finally time to set aside the rumors and go with the facts. Marvel has officially announced the star-studded cast for the superhero face-off that will pit Iron Man against Captain America. While most of the names on the list are expected, there are a few surprises that tickle your Marvel fancy, including the return of Paul Rudd's Ant-Man!
Rudd's anti-hero, Scott Lang, will receive his origin story in July's Ant-Man feature. Now we now he won't have to wait long to join The Avengers, as he'll be part of Cap's team in Civil War, according to a Marvel press release. Here are the names on that release that we already knew about: Chris Evans (Captain America), Robert Downey Jr. (Iron Man), Chadwick Boseman (Black Panther), Scarlett Johansson (Black Widow), Sebastian Stan (The Winter Soldier), Anthony Mackie (Falcon), Jeremy Renner (Hawkeye), Elizabeth Olsen (Scarlet Witch), the recently revealed Emily VanCamp (Sharon Carter) and Frank Grillo (Crossbones). Daniel Bruhl and Martin Freeman were also formally announced, though Marvel wouldn't name their characters. Bruhl will play Baron Zemo, while Freeman is rumored to play an interoggator.
Now, here are the names we didn't know...
Paul Bettany (The Vision), Don Cheadle (War Machine), Paul Rudd (Ant-Man) and William Hurt (General Thaddeus "Thunderbolt" Ross)!
First things first, we now have confirmation that the new line-up of Avengers established at the end of Avengers: Age of Ultron will return, something we presumed would happen. But the biggest surprise is Hurt's involvement. Remember Edward Norton's The Incredible Hulk? Marvel have tried to ignore this film, considering Norton caused some drama for them, but Hurt portrayed General Ross in that film and will now reprise his role. In The Incredible Hulk, it was Ross who agreed to let Bruce Banner conduct his experiments with the hopes of making soldiers immune to gamma radiation. When the experiment backfired, Ross dedicated all his efforts to hunting down the Hulk. What he'll be doing in Civil War is still a mystery, but we're eager to find out.
Not officially addressed is the new Spider-Man. Marvel previously stated that the character would first appear in a Marvel movie before the character gets a solo film in 2017, which made it seem like Civil War would be the likely contender. However, we shouldn't take Marvel's silence to mean he won't appear. Current reports peg Ender's Game star Asa Butterfield as the top contender for the role, which means it's possible the studio hasn't come to a decision, which would mean they are not ready to announce him yet.
In addition to the new cast, Marvel released a new plot description for the film.
Who might this "nefarious villain" be? Grillo's Crossbones is said to be the main villian, though we all know that Marvel movies are not lacking in this category. We'll keep an eye out for more information as production continues on for a May 6, 2016 release.
Your Daily Blend of Entertainment News