Ant-Man's Director Pokes Fun At Marvel Spoilers By Releasing Fake Ending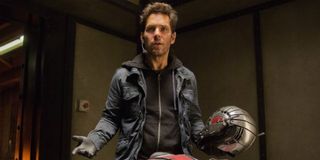 Marvel's secrets are not safe. Intrepid reports have been breaking through the firewall and security details to gain all the information they can on the upcoming movies, and, for better or worse, we already know quite a bit about what's coming for us down the road. But we'd never expect to see someone like Peyton Reed, the director of Ant-Man, spoiling his own movie. How could he bite the hand that feeds him? How could he be so careless with his words? How could he…
…Ok. So he didn't really spoil the ending of Ant-Man. Reed went on Twitter yesterday and wrote that he would be spoiling the ending of Ant-Man in two parts. As it turns out, though, both parts are bits from Fred Hembeck Destroys the Marvel Universe, a hilarious one-shot comic that sees the clown prince of death, Crackers, flying around to fulfill "the big guy"s wishes of offing every super-powered being on Earth, good or evil.
The strips Reed tweeted, obviously, involve Ant-Man's fate. In case you can't read the Ant-Man-sized writing, Crackers finds him in the middle of a heated battle with The Water Wizard, who blasts our pint-sized Avenger into an unconscious state.
When his body slams into the door of a suburban home, an old lady comes out to find the superhero passed out and soaking wet on her doorstep. In an attempt to dry him off, she pops him in the microwave and that's how Ant-Man meets his end.
Fred Hembeck is a well-known cartoonist who made a name for himself by drawing parodies of classic comic books characters. One of his more famous titles is Fantastic Four Roast, in which the entire Marvel comic universe shows up to roast Mr. Fantastic, Human Torch, The Thing and Invisible Woman. Fred Hembeck Destroys the Marvel Universe is another. Every superhero spoof he created was published by the characters' owners. Marvel published this one in 1989.
While this "spoiler" is all in good fun, hopefully this means good things for Ant-Man. We're trying to rush to judgment, considering that this is Marvel Studios we're talking about and we never thought we'd care so much about a gunslinging raccoon and a talking tree. However, Ant-Man has had one too many shakeups for comfort. Edgar Wright, though dropping out of the director's seat over creative differences with the studio, is still credited on the screenplay, which hopefully means there's at least some semblance of his original ideas in there somewhere.
Ant-Man opens in theaters on July 17 and stars Paul Rudd, Michael Douglas, Evangeline Lilly and Corey Stoll.
Your Daily Blend of Entertainment News
Thank you for signing up to CinemaBlend. You will receive a verification email shortly.
There was a problem. Please refresh the page and try again.