Anthony Head Replaces Peirce Brosnan In Percy Jackson Sequel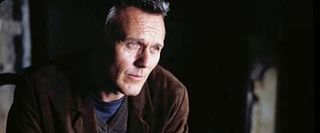 English actor Anthony Head, best-known Stateside as the caring mentor Giles on the long-running fantasy series Buffy the Vampire Slayer, is the latest star to sign on to Percy Jackson & The Olympians: The Sea Of Monsters, the upcoming sequel to the box office hit Percy Jackson & The Olympians: The Lightning Thief. His addition draws attention to a curious trend in the film's casting.
Last week, Nathan Fillion —a gift to fan girls and boys everywhere—signed on to the sequel, just days after the announcement came down that quirky comediennes Mary Birdsong (Reno 911!), Missi Pyle (Josie and the Pussycats) and Yvette Nicole Brown (Community) had been cast as the three fates. Each of these performers has unmistakable ties to cult-adored properties, leading me to suspect that Percy's producers are looking to broaden their audience by appealing to these stars' fiercely loyal fan bases. It's a shrewd strategy that seems to be working, as these casting stories have already drawn rampant interest.
Based on the second novel in Rick Riordan's pentalogy book series, Percy Jackson & The Olympians: The Sea Of Monsters follows the title character—played once again by Logan Lerman—who, with the help of his friends, seeks out the mythic Golden Fleece in the treacherous depths of the Sea of Monsters. THR reveals Head is slated to portray the centaur Chiron, a part previously played by Pierce Brosnan in Percy Jackson & The Olympians: The Lightning Thief.
There's no word on why Brosnan is not reprising his part, but as Chiron runs Camp Half-Blood, where demigods train, Head seems well suited to the mentor-like role, as he exudes a tantalizing blend of authority and concern that's caused more than one Buffy fan to suffer a serious teacher's crush. In short, Percy Jackson's becoming more enticing by the day.
Staff writer at CinemaBlend.
Your Daily Blend of Entertainment News
Thank you for signing up to CinemaBlend. You will receive a verification email shortly.
There was a problem. Please refresh the page and try again.