Aquaman Role For Batman v. Superman: Dawn Of Justice Goes To Jason Momoa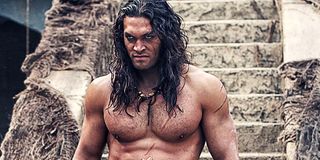 A couple of days ago Nikki Finke broke the news that DC Comics was playing a huge hand of cards by announcing several projects for stage I of their own cinematic continuum at Comic Con. What also came up in that announcement is that the film we now know as Batman v. Superman: Dawn Of Justice was, in fact, not the Man Of Steel sequel we thought it was going to be. Which, to be honest, isn't all that surprising – considering the amount of characters that are already on the film's roster. So seeing as the Justice League prequel is already stuffed with members of the Justice League, what harm would there be in adding another one to the line up? Enter Jason Momoa – our new Aquaman.
HitFix scooped the story and even went as far as confirming that the former Game Of Thrones and Conan The Barbarbian star is indeed going to be filling the role that, as early as this past May, was being rumored to be filled by Matt Damon. In their report, HitFix has hinted at why Aquaman would even pop up in Batman v. Superman: Dawn Of Justice to begin with:
Now this isn't a complete surprise, considering he's
[[ http batman-superman-may-add-game-thrones-jason-momoa-40623.html new www.cinemablend.com ]] been linked to the project since last December; but what is a surprise is the actual naming of Aquaman as his official role. For those of you unfamiliar with the character, Aquaman is the child of a human man and an Atlantian woman. Armed with the ability to communicate with the creatures of the sea, as well as the ability to survive and adapt to the conditions of the deep blue sea, Aquaman (under the aliases of Arthur Curry or Orin, depending on which version you're going by) swears to protect the kingdom of Atlantis – as well as the oceans of Earth. Stereotypically, the character has gotten a bum wrap among his more "spectacularly" powered colleagues – but when a man can summon a shark to swallow you whole, perhaps it's time to stop making jokes.
Thinking back to his Game Of Thrones days, I think that Jason Momoa is perfect for Batman v Superman: Dawn Of Justice. Not only has he played royalty previously, but he also has the build and the demeanor to actually make Aquaman an actual threat... even with the character's blonde locks. Now that the film has dropped any pretense of being a Man Of Steel sequel, and instead has adopted a Justice League – Part I feel about it, the inclusion of all of these other characters isn't as weird. In fact, we could probably stand to hear from a couple more, especially the ones that have their own stand alone films coming. For instance, The Flash and Green Lantern are going to need to start showing up if they want their crossover picture to make sense, and Shazam should appear because... who the hell remembers Shazam outside of the comic world? DC is roiding up their cinematic continuum to compete with Marvel, so this film needs to either work out or show where they need to improve and fast.
Batman v Superman: Dawn Of Justice will be released on May 6th, 2016 – the same day Captain America 3 will carry greater expectations, and on the back of one man.
Senior Movies Contributor
CinemaBlend's James Bond (expert). Also versed in Large Scale Aggressors, time travel, and Guillermo del Toro. He fights for The User.
Your Daily Blend of Entertainment News
Thank you for signing up to CinemaBlend. You will receive a verification email shortly.
There was a problem. Please refresh the page and try again.