Will Arnold Schwarzenegger Return For Terminator 6? Here's What He Says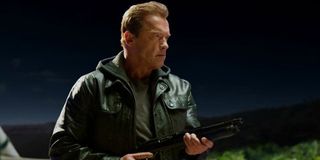 Is Arnold Schwarzenegger going to follow up his appearance in Terminator: Genisys by reprising his iconic role yet again for the film's expected sixth installment? Well, the actor has has now confirmed that he will indeed be back.
Schwarzenegger made this announcement while talking to the eternally devoted fan-website The Arnold Fans. The legendary actor was asked whether he would be following up his turn in Genisys in Terminator 6, and the beefy Austrian didn't disappoint by giving the rousing response of, "Yes, of course, next year."
It has previously been teased that the upcoming Terminator Genisys will be the first in a new trilogy of Terminator films. Of course this speculation immediately led to the same furious question that has dogged every single Terminator film since the relatively adequate but ultimately disappointing third installment to the franchise: will Arnie be along for the ride again? This is the first confirmation that Schwarzenegger will indeed be a firm part of Terminator's future over the next five years.
We're still not completely sure what form Arnie will be returning as. There's every chance that the T-800 cyborg will be obsolete by the end of Genisys. However, if that does prove to be the case, I'm pretty sure that those in control of the series will find a reason to bring Schwarzenegger back. I'm not saying it will be a good reason, but he'll definitely be there.
However this of course all depends on the success of Terminator Genisys. There are big hopes for the upcoming sci-fi blockbuster. In fact Genisys will allegedly work as a reboot, sequel and prequel to the series. All at the same time. That suggests that Terminator Genisys is an incredibly ambitious effort with a far-ranging narrative scope. But do they have the talent involved to truly deliver? Well, the first trailer for Terminator Genisys, once the nostalgic joy of seeing Arnie again wore off, ultimately proved to be immensely underwhelming. You can see if it gets any better with repeat viewings by watching it again below.
See what I mean? However let's not immediately dismiss Genisys though. Writers Laeta Kalogridis and Patricia Lussier have previously scribed the impressive Shutter Island and White Noise: The Light between them. Also, director Alan Taylor's debut as a blockbuster filmmaker, Thor: The Dark World, was a rousing and downright entertaining effort.
Meanwhile Emilia Clarke, Jason Clarke, Jai Courtney, J.K. Simmons, Matt Smith, and, of course, Arnie have each proved they have enchanting and compelling screen presences too. So there's plenty to be excited about even if the debut of the above clip only dampened expectation. And if Paramount want to progress with further sequels to the Terminator franchise they will want Genisys to be met with both critical acclaim and an impressive performance at the box office. Actually, to be honest, they're probably only really concerned about the latter. Terminator Genisys will be released on July 1, 2015.
Your Daily Blend of Entertainment News
Thank you for signing up to CinemaBlend. You will receive a verification email shortly.
There was a problem. Please refresh the page and try again.