Aronofsky Eyeing Russell Crowe And Liam Neeson For His Noah Epic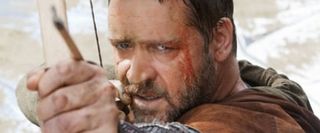 Now that Darren Aronofsky is finally set to move forward with his Black Swan follow-up, an epic film about Noah and his ark, it's time to figure out who will play the iconic Biblical figure. For a while Aronofsky was hoping Christian Bale would take the job, but Bale turned him down in late November, and just a while ago we learned that Aronofsky won't just be casting the main hero, but also a human villain who's skeptical of Noah's plans to save the world.
We're still in the early stages now, and nothing is set in stone, but Deadline reports that Aronofsky is hoping Russell Crowe will play the title role, while also eyeing Liam Neeson to play another part. It's not certain that Neeson would play the villainous figure mentioned earlier, but it seems to make sense-- at least, based on the very, very little we know about what Aronofsky is playing for the film. At the same time, Variety's Jeff Sneider has hinted that Crowe is also up for the title role in the Robocop remake-- so again, nothing at all is set in stone.
It hasn't actually been that long since Crowe headlined a big epic, but it's easy to forget that Ridley Scott's 2010 Robin Hood ever happened, so I don't blame you for not remembering Crowe all that well in action-hero mode. But even in his scruffy, middle-aged state, Crowe actually seems pretty perfect for Noah, especially if Aronofsky can get him to buckle down and give the kind of fleshed-out, ferocious performance he hasn't seemed all that interested in lately. And Neeson? We all know by now that anything Neeson does is worth at least a look-- and yes, I am including Unknown. There's no guaranteeing that any of this will shake out, but if you want to live in hope, keep your fingers crossed that this pans out.
Your Daily Blend of Entertainment News
Staff Writer at CinemaBlend
Your Daily Blend of Entertainment News
Thank you for signing up to CinemaBlend. You will receive a verification email shortly.
There was a problem. Please refresh the page and try again.