Ashley Tisdale Gets Her Own High School Musical Spin-Off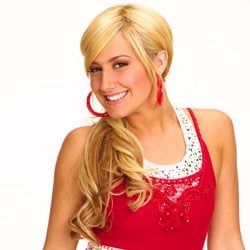 So, yes, the High School Musical movies could often be sappy and ridiculous, and the central characters played by Zac Efron and Vanessa Hudgens were the dullest, dumbest couple you could possibly imagine. But there was some really wicked fun going on in the sidelines with the brother-sister duo of Sharpay and Ryan, she the diva constantly scheming to get Zac Efron's attention, he the barely closeted gay kid helping Sharpay with her evil plans. They shared the third movie's best musical number, "I Want It All," and the actors Ashley Tisdale and Lucas Grabeel generally seemed to be the only ones in on the entire High School Musical joke.
None of this makes it necessary for there to be an entire Sharpay spinoff movie, of course. I'm just saying that the news in Production Weekly about such a thing shouldn't make you immediately tear out your hair. Sharpay's Fabulous Adventures stars filming in June, with Tisdale in the lead and hopefully Grabeel in there somewhere too. If you've ever tapped your feet to a Liza Minnelli number or have a soft spot for Moulin Rouge!, admit it-- you'll watch this too.
Staff Writer at CinemaBlend
Your Daily Blend of Entertainment News
Thank you for signing up to CinemaBlend. You will receive a verification email shortly.
There was a problem. Please refresh the page and try again.