Atari Game Rollercoaster Tycoon Becoming A Movie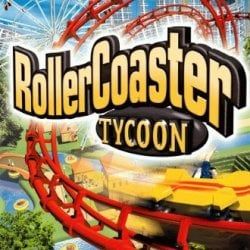 Well, here is proof positive that movie studios will grasp on to any possible idea from any possible source and try to cram the concept into a movie. Heat Vision Blog is reporting Sony has picked up the rights to Rollercoaster Tycoon and will adapt the concept for the big screen. Jay Scherick (Norbit, uh-oh) and David Ronn will work to turn a video game about creating, running and managing an amusement park into something anyone would ever shell out any form of currency to see in the movie theaters. Their current project, Zookeeper, is along the same, attraction-related theme. Harald Zwart (The Karate Kid, The Pink Panther 2 will head up the development of Rollercoaster Tycoon and could even direct the film.
Atari's Rollercoaster Tycoon challenges players to create a theme park with a variety of rides and amusements. Players must keep their park running smoothly and accident-free. Think Sim City, but with a lot more white trash walking around. The franchise is on its third edition of the game.
Rollercoaster Tycoon, the movie edition, looks like a classic cash grab--coincidentally, just like amusement parks.
Doug began writing for CinemaBlend back when Terminator: The Sarah Connor Chronicles actually existed. Since then he's been writing This Rotten Week, predicting RottenTomatoes scores for movies you don't even remember for the better part of a decade. He can be found re-watching The Office for the infinity time.
Your Daily Blend of Entertainment News
Thank you for signing up to CinemaBlend. You will receive a verification email shortly.
There was a problem. Please refresh the page and try again.