The Avengers Almost Had Wasp Instead Of Black Widow, Joss Whedon Wanted A Second Villain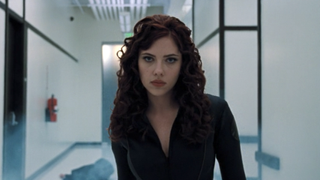 (Image credit: Marvel Studios)
With the possible exception of his tendency to kill off beloved characters, the story element that writer/director/showrunner Joss Whedon is best known for is strong female leads. Heroines have been around for the entire length of his career, from Buffy Summers on Buffy The Vampire Slayer to Zoe, River, Inara and Kaylee on Firefly to Echo on Dollhouse. And it is certainly an element at play in The Avengers. While the superhero team is almost entirely male, Whedon made Black Widow, the character played by Scarlett Johansson, really pop, giving her an amazing solo fight scene at the start of the movie, a stunning intimate moment between her and Loki, as well as some badass skills on the battlefield during the war against the Chitauri. But all of those things almost didn't happen.
Earlier this evening I was invited to a special 3D screening of The Avengers at the Director's Guild of America headquarters in Los Angeles, CA, and during an extended Q&A session with Whedon after the film, the director revealed that it was very nearly the comic book character Wasp that was going to be in the blockbuster instead of Black Widow. "There was a little bit of time when we thought we might not actually get Scarlett," Whedon said while talking about how they decided which characters would make up the team in the movie. The solution was to make the female lead the fantastic shrinking Janet van Dyne, but even before a deal was made with Johansson the writer/director started realizing problems with the draft. "There was a very Wasp-y draft that I wrote – but it was way too Wasp-y. Because I was like, 'She adorable! I'm just going to write her!'"
But that wasn't the only big reveal of the night. According to Whedon, the only "battle" he had with the studio that he winded up losing was his desire to have a second villain paired up with Loki to face off against The Avengers. While he wouldn't reveal who he wanted to be in the movie as well - saying that whoever it was could wind up in the Marvel Cinematic Universe somewhere down the line - apparently his issue with just having Loki was that he didn't feel the God of Mischief was a big enough foe for one of the greatest superhero groups ever created. "I definitely felt like I have Earth's Mightiest Heroes, I have four of the biggest, baddest…just the toughest guys out there – and I have one effete British character actor." It was apparently a great challenge figuring out how to balance the fight, but the "one effete British character actor" wound up being his greatest weapon. "The ace in the hole is Tom Hiddleston," Whedon explained, "because he's so compelling and commanding and gracious about it that it became, 'Oh it's about how he gets in their heads – it's going to be fine. But it took me a long time to accept that because they need someone to hit!"
This is the type of information that will just make a geek brain run near explosion. If Whedon liked writing for Wasp that much, does that mean she could be a part of The Avengers 2? What does that mean for Edgar Wright's Ant Man, given that Janet van Dyne is the hero's wife? Who would have been the physically challenging villain that The Avengers would have gone up against alongside Loki? All of this will unfold over the next three years as Phase 2 is slowly revealed - starting with Iron Man 3 in May - but or now we'll just have to imagine what could have been and what will be.
Your Daily Blend of Entertainment News
Assistant Managing Editor
NJ native who calls LA home and lives in a Dreamatorium. A decade-plus CinemaBlend veteran who is endlessly enthusiastic about the career he's dreamt of since seventh grade.