The Awesome Reason Cate Blanchett Is Excited For Her Part In Thor: Ragnarok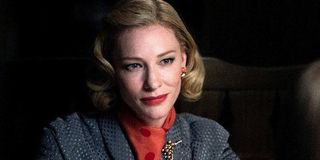 As much as they're often typecast, actors try to push their boundaries and do things that they've never done before. We've seen traditionally dramatic actors try their hands at comedy, and funny folks take a serious turn. Sometimes the results are fantastic, other times, not so much. When Thor: Ragnarok hits in 2017, the third solo film from the Norse God of Thunder will bring Oscar-winner Cate Blanchett along for the adventure. This is a drastic departure from what the actress is most known for, but it turns out she has an awesome reason for wanting to kick ass in a superhero movie and being excited for the part.
Though Cate Blanchett was rumored to join Thor: Ragnarok for a while, we now believe that she'll play Hera, the ruler of the underworld. During an interview with South Korea's Moloive, Blanchett explained her reason for taking the role.
Cate Blanchett has two Academy Awards sitting on her mantel at home, or wherever she keeps them, and has been nominated an additional five times, including this past year for her role in Todd Haynes' tale of forbidden love, Carol. But what better reason to make a superhero movie than to impress your kids? She has four children, the oldest of whom is 15, and they'll probably think mom appearing in Thor: Ragnarok is pretty damn great.
Period pieces, smaller dramas, and prestige pictures may be what the Australian actress is most known for, but Cate Blanchett's not entirely unfamiliar with big, epic, action-packed cinema either. She went full-on villain in Indiana Jones and the Kingdom of the Crystal Skull, playing a dastardly Russian agent. And she was, of course, in a couple of little films set in a place called Middle Earth as she played the elf Galadriel in Peter Jackson's Lord of the Rings trilogy, a role she reprised for his The Hobbit movies a few years later. She knows a thing or two about epic movies, that's for sure.
Check out the entire interview below.
We don't know a ton about Thor: Ragnarok just yet, except that it will likely give us a glimpse of what Thor and Bruce Banner/The Hulk are doing instead of showing up in Captain America: Civil War later this year. Directed by Taiki Waititi (What We Do In The Shadows), the story is said to be a kind of buddy road trip with the beefy, mismatched twosome. If they're traipsing around through the Nine Realms, it's easy to imagine a scenario where they run afoul of Hera along their journey. Perhaps Loki has a hand this, that devious little bugger.
Thor: Ragnarok hits theaters November 3, 2017
Your Daily Blend of Entertainment News
Thank you for signing up to CinemaBlend. You will receive a verification email shortly.
There was a problem. Please refresh the page and try again.