Ben Affleck Directing The Solo Batman Movie? Here's What He Says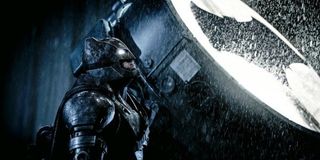 It turns out Warner Bros. is just as aware as the rest of us that Ben Affleck should probably direct the next Batman solo movie. Let's face it, it's a cinematic marriage that has been staring us all in the face ever since Affleck was cast as the Caped Crusader. But why hasn't it been confirmed yet? Well, according to the actor, everyone involved wants to make sure that they can make a good movie, rather than just doing one because it's convenient.
Ben Affleck discussed the possibility of him directing the next solo Batman movie with Total Film, via Heroic Hollywood, and it's quite clear from his comments that he would love the opportunity. Affleck explained:
That's about as honest, measured, and sensible an answer as you're ever going to get from someone linked to a superhero film.
Affleck's love and appreciation of Batman has been revealed before. In fact, his old chum, Kevin Smith, previously revealed during one of his podcasts that the only reason Affleck decided to do the repeatedly chastised Daredevil was because he was certain that Batman had gone the way of the dodo and the western following Batman & Robin's nipples.
That's obviously not the case anymore. Christopher Nolan's Dark Knight trilogy rejuvenated the character, while at the same time Affleck reinvented himself as a legitimate, and exhilarating, mainstream filmmaker, thanks to Argo, Gone Baby Gone, and The Town. Now, these two sides are set to intersect with each other.
Charles Roven, Batman v Superman: Dawn Of Justice's producer, also admitted that this is something the big-wigs behind the impending DC Extended Universe want to happen, too, but, once again, he was cautious about whether it will actually happen.
It's looking more and more likely that Ben Affleck will direct his very own Batman film. He wants it. They want it. And I'm pretty sure that we all want it, too.
Or maybe not. There was quite a raucous reaction when Affleck was originally cast as Bruce Wayne in Batman v Superman: Dawn of Justice. Affleck has already filmed his supporting role in Suicide Squad to go alone wiht his debut in BvS, while he's also going to feature prominently in the Justice League movies, and the expected new Batman trilogy, too. Maybe Warner Bros. believe that, because of the original backlash, fans won't be happy with Ben Affleck directing and starring in a Batman film. And they're in fact waiting to see how people respond to Batman v Superman: Dawn Of Justice before confirming.
If that's the case, then it's kind of sensible, but at the same time also a little bit too cautious. Because Affleck's talents as a director mean he will be the perfect individual to oversee a new Batman film. Plus, it will soon be irrelevant, because B'Fleck is obviously going to hit it out of the park as the DC icon when Batman v Superman: Dawn Of Justice is released on March 25, 2016. And when he does, that should convince Warner Bros. to speed up their negotiation process with the Oscar-winner.
Your Daily Blend of Entertainment News