Batman V Superman Casting Hints At Possibility Of Metallo For Future DC Comics Films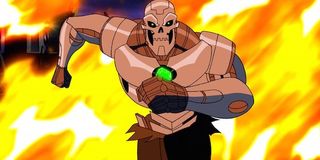 Three years after Superman was pitted against General Zod in Man of Steel, Batman v Superman: Dawn of Justice is introducing two more of the Kryptonian's rogues into the DC Extended Universe. Lex Luthor is serving as the movie's main antagonist, while Doomsday will be unleashed at some point as the primary physical threat. Now a new cast member has been revealed that could set up a future appearance from another adversary: Emmet Vale, aka the creator of Metallo, the Kryptonite-hearted cyborg.
Originally listed on IMDB, CinemaBlend has learned that actor Ralph Lister is indeed playing Emmet Vale. Lister's other credits include Oz, the Great and Powerful, Beverlywood, Hellsing Ultimate and Lucky Jay, and he has also made a name for himself as an audiobook narrator. While Vale will presumably be a minor character in Batman v. Superman: Dawn of Justice, it does set up interesting possibilities for Superman's cinematic future.
Emmet Vale (originally just known as Professor Vale) was a robotics scientist whose interest with aliens paid off when he learned about Kal-El's arrival on Earth. Years later, he found the Kryptonian ship, and after incorrectly translating Jor-El's message, believed Superman was the first of more alien invaders coming to conquer Earth. Vale soon began studying the Man of Steel, and eventually learned about Kryptonite's harmful effects. After finding John Corben, he took the injured criminal's brain and placed it in a robotic body powered by Kryptonite, turning Corben into Metallo. Vale wanted to use Metallo as a weapon against Superman, and while he got his wish, his creation killed him soon after. You can take a look at Ralph Lister, and the good professor he'll be playing, in the comparison below:
Assuming Batman v Superman: Dawn of Justice's version of Vale retains the scientific background, I'm assuming he'll be an employee at LexCorp, and may even assist Lex Luthor in his more secretive experiments. Although there are reports that Man of Steel 2 is in development, it hasn't been given a release date yet. With the Man of Steel being kept busy in the meantime with both Justice League movies, there's plenty of time to develop the second solo effort for the last son of Krypton. That said, Metallo would certainly make a good villain for said sequel if the DCEU goes in that direction.
Aside from the super strength and speed his robot body grants him, that Kryptonite heart obviously gives Metallo an advantage over Superman. Of course, Metallo isn't the smartest cookie in the box, so if he is eventually used, he'd be better suited as a physical/supporting threat assisting the brains that are hatching the grand scheme of whatever film he's a part of. Brainiac would be an interesting choice, and even if Vale is responsible for John Corben's transformation into Metallo, it would be cool to see the supercomputer discover the cyborg and use him as his muscle against Earth's Krytponian protector.
Batman v Superman: Dawn of Justice hits theaters on March 25.
Your Daily Blend of Entertainment News
Connoisseur of Marvel, DC, Star Wars, John Wick, MonsterVerse and Doctor Who lore. He's aware he looks like Harry Potter and Clark Kent.
Your Daily Blend of Entertainment News
Thank you for signing up to CinemaBlend. You will receive a verification email shortly.
There was a problem. Please refresh the page and try again.