Batman V Superman Made An Insane Amount Of Money In Its First Five Days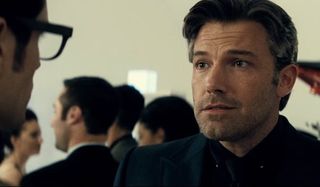 If you pay attention to the weekly box office reports—and even if you don't, you probably still heard about this—then you know that Zack Snyder's Batman v Superman: Dawn of Justice, while divisive amongst fans and critics, made all of the money during its initial weekend run. Though there was a sharp drop-off from Friday to Sunday, it continued to roll right along as the workweek kicked off, and it has made an insane amount of money in just five days.
According to EW, the sprawling, superhero-on-superhero throw down has surpassed the $500 million mark globally in just five days of release, with $193 million of that coming from domestic theaters. Averaging $100 million per day isn't too shabby, and in case you were wondering just how popular the Dark Knight or Superman really are, eager Batman v Superman: Dawn of Justice audiences should drive that home once and for all.
Batman v Superman: Dawn of Justice rewrote the record books during its opening weekend. It topped The Hunger Games for the biggest March opening of all time, and also now holds the high spot for any movie based on Batman, or any other DC Comics property for that matter. It had the fourth-biggest global debut weekend ever, as it opened in almost every major market simultaneously. It's $166 million draw domestically makes it the seventh largest opening weekend on U.S. shores, and it fell just shy of Harry Potter and the Deathly Hallows Part 2, which rushed out of the gates with $169 million, for Warner Bros.' all time best opening. All in all, that's not half bad company to be in.
If you look ahead to the new releases in the coming weeks, despite some concerns about its earning potential, there doesn't appear to be much competition to stop Batman v Superman: Dawn of Justice from continuing to dominate at the box office. This weekend sees faith-based God's Not Dead 2 hit screens, which will surely have its own niche audience. The only other wide release is spoof, Meet the Blacks, which I honestly didn't know was a movie until a week ago.
Even looking a week further, the biggest competition if Melissa McCarthy's comedy The Boss, the Jake Gyllenhaal-fronted drama Demolition, and the horror flick Before I Wake. It's hard to imagine one of those stopping the juggernaut that is Batman v Superman: Dawn of Justice. The first movie with the potential to topple it doesn't show up until The Jungle Book drops on April 15.
Though it received harsh reviews, and audience scores have been lower than hoped for, people are still going to see Batman v Superman: Dawn of Justice in droves. This bodes well for the burgeoning DC Extended Universe, and with Suicide Squad due later this year, and Wonder Woman and Justice League Part One on the way in 2017, they're off to a rollicking start.
Your Daily Blend of Entertainment News