Ben Stiller's The Secret Life Of Walter Mitty Takes Our Breath Away At CinemaCon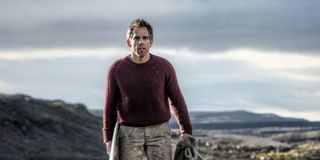 Everything I had previously read about Ben Stiller's The Secret Life of Walter Mitty had me believing that the film was going to be a broad comedy. The movie is stacked with a stellar comedic cast - including not only Stiller, but Kristen Wiig, Adam Scott, Kathryn Hahn, Patton Oswalt – and comes from the director of movies like Zoolander and Tropic Thunder.
But watching the premiere footage from the film today during 20th Century Fox's presentation of CinemaCon I discovered that not only is the movie more of a dramedy, it looks like it could be a film that everyone is talking about during Oscar season. Mixing both light and dark tones and featuring some absolutely beautiful cinematography, the The Secret Life of Walter Mitty reel is the best thing I've seen so far at the week-long Vegas convention, and the movie is now cemented on my must-see list for the rest of 2013.
The footage began with Walter Mitty (Stiller) silently at his computer in his home checking his eHarmony account. Looking through his possible connections, he discovers Cheryl (Wiig), a woman whose likes include her sister and mystery novels, and her dislikes including her sister and internet dating. Walter hovers his mouse over the "Send a wink" button, but hesitates, instead standing up and pacing around his living room. Eventually he builds up the nerve to press the button, but instead of sending a wink he gets an alert that says "Unable to perform request." He tries it multiple times, but continues to get the same error message.
Leaving his house and walking to the subway, Walter calls the eHarmony support line and speaks to a representative (Patton Oswalt) about the problem that he's been having. The voice on the phone notes that Walter's account is new and that he has left the "Been there, done that" section completely blank. The reason for this is clear: Walter doesn't have much of a life.
Walter arrives at his office – he works at Life Magazine – and while getting coffee sees Cheryl (who appears to be a woman he works with) across the room. She calls, "Hey!" in his general direction, but just as he is about to respond he discovers that she is actually talking to a friend who is right behind him. His mind then drifts into fantasy, as he imagines himself as a Everest-climbing mountain man, who comes up from behind Cheryl and sweeps her off her feet, whispering romantic phrases in a strange accent.
While Walter is in dreamland, however, a bearded Adam Scott walks up with a bunch of other suits and begins to mock Walter behind his back for his flighty mind. In Walter's fantasy as the mountain man he is suddenly pulled backwards out of the office and over a snowy cliff, falling to his doom. In the real world, Scott's character continues to mock Walter, calling out, "Ground control to Major Tom! Can you hear me, Major Tom?" quoting the classic David Bowie song. It cuts away to a quick scene where we see Cheryl talking to Walter, telling him that the guy completely misunderstands the song, saying that it's about courage and venturing into the unknown.
We then see Walter in a house with Shirley MacLaine and Kathryn Hahn looking through boxes for things to donate to charity. Hahn holds up a travel journal that belongs to the protagonist and tells him that he should give it to a poor kid, seeing as he never actually used it.
Back at the office, Adam Scott is giving a presentation where he is talking about printing what will be the final issue of Life Magazine. He is also excited to announce that Sean O'Connell (Sean Penn), a famed photographer, has sent some negatives to use and a telegram that asks for them to give special consideration to negative #25 for the cover. Unfortunately, when Walter looks through the negatives he discovers that #25 is actually missing. It is then revealed that Walter was actually Sean's partner and the only person he really trusted with his work. Working with Cheryl, he discovers that Sean is in Greenland and she encourages Walter to follow up the lead. After an exhaustive search with no results, and the suggestion that maybe Sean didn't even send the negative. Walter looks to a photograph of Sean hiking a mountain, and suddenly the photo begins to move, Sean beckoning Walter to join him. Walter grabs his coat, a suitcase and heads out on the first adventure of his life.
As Walter travels we hear The Arcade Fire's "Wake Up" play as the screen is filled with truly stunning images of the shores of Greenland. Adding a bit of extra humor to the footage, he goes to rent a car and the place only has two smart cars, one red and one blue. Renting the red one, he drives to find a helicopter pilot who knows where Sean is.
Sitting at a table with the pilot, Walter starts to get more and more apprehensive about the trip because the pilot is drinking down a boot of beer and complaining about being nervous about the oncoming storm. As the pilot gets up to go to the copter, Walter stays behind, too afraid to travel with him. Once again he begins to fantasize: Cheryl comes up from behind him with a guitar, as though she is about to play a performance at a coffee house. She says, "This one goes out to Walter Mitty – he knows why," and begins to sing an acoustic version of Bowie's "Space Oddity." Inspired by the fantasy, Walter walks out of the bar and just as the copter with the drunk pilot is about to take off he jumps into the back, ready to continue his quest.
As the music changes to the actual Bowie song, we see the copter fly and witness even more absolutely beautiful shots of Greenland's seascape. When they approach a ship, the pilot informs Walter that they won't be landing and that he will have to jump out. Walter follows this instruction, but jumps out of the wrong side of the copter, thinking he was supposed to jump on to the actual ship instead of a life raft that they sent out for him.
Walter is stuck in the water, which is extremely choppy, but the people on the ship tell him not to worry. The hero then calls out that he thinks he sees a fin floating around him in the water, fearing that it's a shark. A man on the ship says that he should be fine and that it's just a porpoise that will actually protect him from sharks. Made confident by this news, Walter starts to call to the dolphin, but is terrified to learn that his first instinct was correct – it's actually a giant shark. Just as Walter is about to be attacked he is pulled into the lifeboat.
The rest of the footage was a montage of various scenes from the movie, mixing both fantasy (such as Walter throwing Adam Scott's character out of a building, seeing Wiig's face form in a group of flying birds and diving through a window) and reality (including Walter looking in the travel book and seeing a message reading "Have fun! – Dad," getting slapped with a branch, and skateboarding down a mountain).
Despite the fact that the movie just recently released its first still it's likely going to be a while before we get to see a trailer from the movie, but trust me when I say that it will be worth the wait.
For more of our CinemaCon 2013 coverage head over HERE!
Your Daily Blend of Entertainment News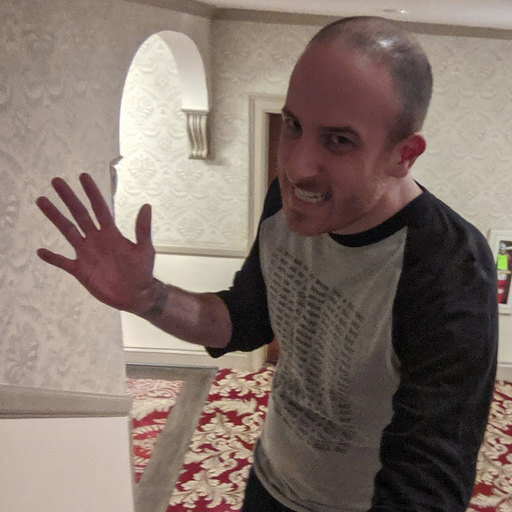 Assistant Managing Editor
NJ native who calls LA home and lives in a Dreamatorium. A decade-plus CinemaBlend veteran who is endlessly enthusiastic about the career he's dreamt of since seventh grade.