Benedict Cumberbatch To Climb Blood Mountain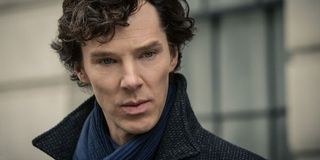 It was not a great year for the Cumberbitches. As if the flopping of The Fifth Estate wasn't enough, Star Trek Into Darkness became one of the most mocked Trek films in the canon. Cumberbatch did get to strut his stuff in The Hobbit: The Desolation Of Smaug, but even that was the lowest-grossing Lord Of The Rings-related film domestically by a considerable margin despite 3D prices. At least Cumberbatch has Sherlock, but even that is dwarfed in size by both CBS's Elementary as well as Robert Downey Jr.'s billion dollar big screen franchise. And that is why Mr. Cumberbatch must climb Blood Mountain.
ScreenDaily reports that Cumberbatch is attached to Blood Mountain, a project currently seeking financing at the Berlin Film Market. Cumberbatch would play an independent contractor who finds his convoy attacked as they're transporting a terrorist, losing all of his men. He alone must then transfer the bad guy alone through hostile terrain, beset on all sides by enemies. If we're being honest here (and we are, this is a safe place, and you can hold my hand), this is an overly-familiar premise, and the conflicts between him and the terrorists, both physical and ideological, can be predicted a mile away. Should he give the terrorist a gun? Is he going to let the terrorist be taken so he can live? Will these two men realize that, inside, they're not all different? Will they kiss?
Perhaps the added flavoring of this basic idea will come from director Sergei Bodrov. He'll be helming the project, bringing his multinational mentality to the project in a bid for global success, which likely means this could open on like five screens in America and still be profitable. Bodrov's been working for decades, but his big break was with 2005's Nomad: The Warrior, a glossy Kazakhstanian historical epic made as an opportunity to show off the Kazakhstan film scene while also beating back the negative buzz the nation had to endure thanks to the worldwide success of Borat. Nomad proved to be Bodrov's calling card, showing that he could work with massive budgets, getting him the job directing Mongul, a glossy war picture about the origins of Genghis Khan. It's actually a pretty cool movie, but in 2007 it was meant to be the start of a trilogy. Clearly that did not happen.
Bodrov's been working in many countries and languages, which in itself is pretty cool: guy gets to globe-trot and meet many different people. But his recent big American breakout was meant to be The Seventh Son, a teen fantasy actioner that's been completed and on the shelf for so long that it might as well be the Margaret of young-adult adaptations. In other words, what we're saying here is, don't expect a Blood Mountain 2.
Your Daily Blend of Entertainment News
Thank you for signing up to CinemaBlend. You will receive a verification email shortly.
There was a problem. Please refresh the page and try again.