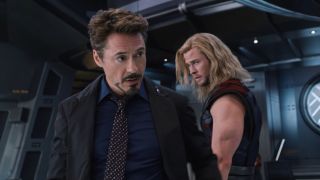 (Image credit: Paramount Pictures/Marvel Studios)
Technically, June 15 (or thereabout) would mark the mid-point of 2012. So if we were grading the film's released in the first half of the year, we'd have to draw a line in the sand at that moment. But that would mean ignoring too many instant classics that rolled out over the second half of the summer season this year.
We're gearing up for the fall film season, when studios stockpile most of their possible awards contenders. The last few months of 2012 should be crowded with valuable viewing opportunities, so we wanted to take a moment and reflect on the best films we've seen so far this year. Hopefully, we'll spotlight a film you haven't seen yet, and, if so, inspire you to go hunt it down as soon as you can. And because most of us on staff singled out one particular film as we discussed which movies we'd write about, we're kicking off the feature with:
The Cabin in the Woods by Kristy Puchko
As an unrepentant fan of horror films, I often have to explain my love of the genre to those who just don't get it. But when a horror movie comes along that's as ferocious, frightening and fun as Cabin in the Woods, my devotion is easily validated. Co-creators Drew Goddard and Joss Whedon spurred new appreciation for this oft-maligned genre by not only offering plenty of ghastly gore and powerful scares, but also drawing attention to the mechanization behind typical terrifying scenarios, and how these reflect our modern zeitgeist.
From the blood-drenched fight for survival that befell some carefully selected college co-eds to the sardonic humor of the control room, Cabin in the Woods delivered on levels of terror and laughs, while offering its viewers something meatier in which to tear. Sure, you can enjoy this horror-comedy for its thrills and wit alone. But the film also raises questions about the "whys" of contemporary horror. Why is an extroverted woman reduced to her sexuality, and so deemed worthy of gruesome death? Why are bravery and intelligence similarly reason enough for execution? Why is a female virgin always given a chance at salvation? And ultimately, why play into a world with such twisted rules?
Moonrise Kingdom by Jesse Carp
It's not hard to imagine that a Wes Anderson film would fall into my No. 1 slot in a look back on the year's best from the middle of August (or anytime), but few figured it would be the frontrunner on the majority of these lists. Anderson's movies are generally well received by critics -- more admired than loved -- yet Moonrise Kingdom hasn't just captured those hardest of hearts and minds but also the money, uh, hearts of mainstream audiences. It's not only a critical hit, it's also a blockbuster! Jiminy Cricket!
Moonrise contains all of Anderson's usual storytelling affectations, not to mention his immaculately composed moving tableaux, but for some reason this tale has found a larger following than even his Academy Award nominee (The Royal Tenenbaums). The compositions are intricate and colorful, with the small (and fictitious) New England island serving as the perfect 1960s setting for his attention to detail and the charming yet significant story of Suzy and Sam's forbidden love. Moonrise Kingdom may be full of magic and whimsy in the stunning cinematography, wonderful score and many great performances. But Wes' artifice also allows for the most emotionally satisfying experiences I've had at the cinema in some time.
Take This Waltz by Katey Rich
After making her directorial debut with the heartbreaking drama Away From Her a few years back, Sarah Polley established herself as one of the more surprising and interesting new voices behind the camera, and before she had even turned 30 told one of the more raw and relatable stories of romance between two people near the end of their lives. But it's in Take This Waltz, with Polley turning her camera toward characters of her own age, that she really makes her voice known.
Take This Waltz is a wild, colorful burst of romance and sadness and longing, letting the intense emotions of a would-be affair bleed over into the filmmaking itself, boldly blurring the line between a not necessarily likable heroine (Michelle Williams, incredible as always) and the audience who must go along with her anyway. As a story that for a while is about unspoken passion between a woman and her hunky neighbor (newcomer Luke Kirby), Take This Waltz dares to say everything out loud -- it may be the first movie that looks how an exciting new love feels. That kind of grab-you-by-the-throat bravura for telling such a small story isn't for everyone, but if it works, as it did for me, you won't be able to forget it.
Magic Mike by Mack Rawden
Magic Mike is a filthy movie. Like a good strip club, it's an obnoxious, kinda skuzzy, talk-about-it-with-your-friends experience. It features drugs, fighting, dancing, the good kind of three-way, and just about every other debaucherous practice you can fathom. Altogether, it's enough to ensure the film a lifetime of impulse rentals next to the National Lampoon straight-to-DVD films. Luckily, thanks to careful direction, good acting performances and actually giving a shit about its characters, Magic Mike is so much more.
It's all about balance. If you're going to make a movie about dudes stripping, you need to show dudes stripping. Magic Mike does that. It's never ashamed of what it fundamentally is, but it also doesn't use that premise as an excuse not to develop its characters or give them interesting side plots. By the end, you really care about the decisions "Magic" Mike and his buddies make, and in a way, that makes their exploits a hell of a lot more fun.
Goon by Kelly West
Directed by Michael Dowse, with a screenplay written by Jay Baruchel and Evan Goldberg, Goon tells the story of the rise of minor league hockey player Doug Glatt. On the surface, he appears to be little more than a dim-witted bar bouncer and hockey enforcer who knows how to throw down the gloves and fight. But beneath the meathead exterior is a man with a giant heart and the determination to serve his team as best he can. In addition to having some great hockey moments, Goon is funny and sweet, and - thanks in part to the charm and humor of Alison Pill and her chemistry with Scott - there's also an incredibly adorable little love story worked into the plot.
Just as Doug Glatt is a man who understands where he fits into the game and in a way, the world, Goon is a movie that understands its purpose, and it never tries to be anything more than exactly what it is. It's not trying to inspire anyone or send some message about team spirit, and yet it manages to do that, while also delivering plenty of laughs. Not only is Goon one of my favorite movies this year, but it also belongs on the list of must-see hockey movies.
Safety Not Guaranteed by Sean O'Connell
My favorite film from South By Southwest 2012 remains the best movie I've screened to date this year. Colin Trevorrow's endearing Safety Not Guaranteed seems to wrap itself in two distinctly protective coatings: A faux-edgy shield of snarky Gen-Y attitude, and the cool aloofness of dime-store science fiction. Yet with each passing minute, the layers shed to reveal a weird, gentle, open-hearted and embraceable core that's pulses with warmth, comfort and, yes, a necessary dose of Duplass observational humor.
Mark Duplass (the Gene Hackman of 2012) plays Kenneth, a paranoid loner who places a classified ad seeking a partner for a time-travel mission. Aubrey Plaza plays Darious, the skeptical journalist ordered by her editor (Jake M. Johnson, in a breakout role) to investigate Kenneth's oddball claims. But Safety becomes less about the act of time travel, and more about why we'd want to ever travel through time in the first place. It carries us on a wave of sarcastic energy and plausible hope to those personal moments before life stopped cooperating. And it builds towards an impossibly adorable ending that prompted the audience in my theater (myself included) to stand up and cheer like wahoos. An uplifting, spiritual time at the movies? It's all but Guaranteed.
The Avengers by Eric Eisenberg
While so many films have failed and/or disappointed this year, Joss Whedon's The Avengers cannot be included on that list. In fact, if anything, it's the year's greatest surprise. When it was first announced in 2008 that Marvel Studios would be working to create a cinematic universe that would lead to the likes of heroes like Iron Man, Thor, Captain America and Hulk meeting together on the big screen for the first time, the project seemed far too ambitious to be real … and too much of a challenge to be done well. Well, this summer the studio -- and Whedon -- proved everyone wrong, and what we got was one of the best films of the year so far and one of the greatest comic book movies of all time.
And the reason the movie was so successful is because he had everything we were hoping for. It was laugh-out-loud funny, featured some of the best superhero action we've ever seen, was packed to the gills with amazing performances, featured some deep, emotional moments and, most importantly, it was all brought together by a filmmaker who truly understood the characters and why they are so essential to us. The Avengers was better than anyone could have hoped for or should have expected, and we should all be thankful.
Your Daily Blend of Entertainment News