Big Hero 6 Posters Invite You To Meet Baymax And Hiro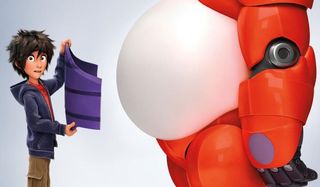 This big white beast is Baymax, one of the heroes of Disney's Big Hero 6, and he's come to win the hearts of your children. Prepare for public meltdowns as they demand a Baymax of their very own, sure to be available in Disney stores across the nation just in time for Big Hero 6's big debut this fall. And who could blame the little tykes? This tubby robot is alien and yet affable. He also happens to be the best friend and invention of a tech-savvy teen named Hiro Takachiho.
(Click on the posters for larger, hi-res versions)
This unexpected pairing has played at the center of Big Hero 6's early marketing. Hiro is a thirteen-year-old who is a genius, capable of building incredible creations. Baymax is his most impressive creation to date. A big, rubbery robot made for a school project, Baymax seems silly, but when specially equipped with his red super suit, this quirky playmate is primed to be a big hero. You can see Baymax in transition below, with Hiro prepping to put on the suit's final piece.
A third poster, which was previously released, reveals one of this suit's added powers is rocket boots!
And of course, you can see these two in action in the film's first teaser trailer:
Marvel and Disney joining forces, has meant a steady flow of big budgeted live-action superhero movies, like The Avengers, Iron Man 3, Thor: The Dark World, Captain America: The Winter Soldier, and the upcoming Guardians of the Galaxy. But with all these playing into the same film universe, it's been important that they share a cohesive feel and look. While understandable, some moviegoers have begun to complain about one after another superhero movie looking like those that have come before. It seems Big Hero 6 is Disney's answer to that complaint.
Not nearly as well known as the other Marvel properties being spun into live-action spectaculars, Big Hero 6 is being aimed more dedicatedly at kids, something that's clear from the choice of animation, and the look of Baymax. I mean, look at Marvel comics' version of Baymax, then look at his cuddly Disney makeover.
Big Hero 6 will follow the adventures of six superheroes recruited to protect their nation against a wild brand of threats. It will hit theaters on November 7th, 2014.
Staff writer at CinemaBlend.
Your Daily Blend of Entertainment News
Thank you for signing up to CinemaBlend. You will receive a verification email shortly.
There was a problem. Please refresh the page and try again.