Disney's Big Hero 6 Plucks A New Director From Frozen Voice Cast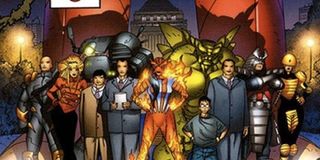 With the acquisition of Marvel, it was only a matter of time before Disney sourced its hordes of comic book titles for one that could be best translated in animation. To begin, Disney Animation has selected Big Hero 6, a super team story that features a samurai, a robot, a shapeshifter and a sushi chef. (Because of course.) Don Hall, who co-directed the delightful 2011 release Winnie the Pooh has been directing the project through preproduction. But with the coming of the new year, the House of Mouse has unveiled he'll be getting some help from newly announced co-director Chris Williams and producer Roy Conli.
THR reported the addendum to key crew, and offered a plot synopsis for Big Hero 6, which will be a stereoscopic 3D CG feature:
Conli is a wise addition to the producing team as he helped produce the charming CG Disney hit Tangled. For Williams's part, he previously co-wrote and co-directed Bolt, a CG Disney title that offered far more action than Winnie the Pooh. Which is to say he seems a great partner for Hall here, being better versed in CG animation and the genre of action-comedy.
Fun fact: Williams's other recent claim to fame is as the kindly--but no-guff taking--proprietor of the Wandering Oaken's Trading Post & Sauna in Disney's Frozen.
We first caught wind of Disney's plans for Big Hero 6 back in the summer of 2012 with rumors "Paperman" producer Kristina Reed was attached to produce. A few days later, Disney confirmed the project, but things were fairly quiet until this summer when Hall shared a look at the in-development movie at Disney's D23 event. Our own Eric Eisenberg was there, reporting how Hall created a mash-up of San Francisco and Tokyo called San Fransokyo and sought to make the robot Baymax "huggable." (Hey, if he's going to be a Disney toy, it's a smart move.)
Big Hero 6 is set to hit theaters on November 7th, 2014. In the meantime, check out this First Look, which gives a glimpse at San Fransokyo.
Staff writer at CinemaBlend.
Your Daily Blend of Entertainment News
Thank you for signing up to CinemaBlend. You will receive a verification email shortly.
There was a problem. Please refresh the page and try again.