Disney Reveals First Look At Big Hero 6's Baymax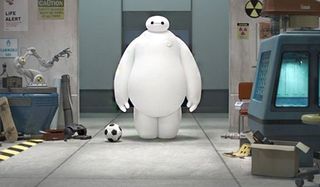 This fall will see the first animated effort to come from Disney and Marvel's merger with Big Hero 6. Helmed by Don Hall (Winnie The Pooh) and Chris Williams (Bolt), this animated action-comedy will follow the adventures of six superheroes who've been recruited by the U.S. government to protect our nation. And Disney is at long last revealing the first of these heroes with the stills shown here.
The Movie Bit revealed a trio of images that give us our first look at Baymax in battle mode, play mode, and somewhere in between. In the comics, Baymax is the creation of young Hiro Takachiho, a 13-year-old boy who has a brilliant mind. Hiro built Baymax for a school project, but the two grow to form a deep bond of friendship. In the comics, Baymax also had the ability to morph into a dragon, but we don't yet know if that power will make an appearance in Big Hero 6.
In the image up top, you see Hiro standing in apparent awe of Baymax in his armor. But below, we get a glimpse of casual Baymax, who looks like a big adorable Marshmallow man…or the love child of Wall-E's EVE and Doctor Who's Adipose. Which is not a complaint, more an observation.
During the Disney and Pixar D23 conference, Big Hero 6's makers had teased that they were looking to re-imagine a version of Baymax that would make him "huggable." And on that count they nailed it. This simple but adorable figure seems guaranteed to drive kids crazy with the Gimme Gimmes, good news for Disney's merchandizing branch.
The last image from Big Hero 6 we're offered for now is a shot of Hiro and Baymax interacting. We get a better look at Hiro, and a better idea of Baymax's shapeshifting abilities.
Personally, I like the look of Big Hero 6 so far. It's cute, but clever, showing a craftsmanship and eye for detail in the backdrop, from the weathered look of the walls to the clutter of kid stuff like the soccer ball and skateboard. Baymax's design is interesting, but does seem a bit of a risk being so simple. Can a creature with such a minimalist face convey emotion to kids? We'll have a better sense when we see him in action. And of course, the real test will come when Big Hero 6 hits theaters on November 7th, 2014.
Staff writer at CinemaBlend.
Your Daily Blend of Entertainment News
Thank you for signing up to CinemaBlend. You will receive a verification email shortly.
There was a problem. Please refresh the page and try again.