Billy Bob Explores The Caves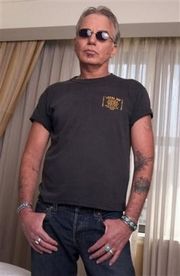 Billy Bob Thornton has claimed in the past that he is the reincarnation of Benjamin Franklin. And no, he wasn't kidding around or high as a kite at the time of his declaration.
So it makes sense that for his next project, he is visiting another blast from the past. It shouldn't be too tricky for him, since he probably feels he existed during that time in another vessel anyway. According to Hollywood Reporter, Thornton will direct and star in the film Floyd Collins, set in the 1920s, for Paramount Pictures. His longtime writing partner Tom Epperson adapted the screenplay from the book "Trapped! The Story of Floyd Collins" by Robert Murray and Roger Brucker.
The drama centers on the true story of cave explorer Floyd Collins in 1925. After being trapped in a Kentucky cavern, news teams spent nearly two weeks turning it into a media spectacle. The event is significant because it marks one of the first large-scale media frenzies in documented history.
Thornton will be in no less than 4 films in 2006, and was last seen alongside John Cusack in the Ice Harvest.
Your Daily Blend of Entertainment News